Hey PI-Fans,
Things happen, shipments meander, stuff gets lost… and then suddenly it's all here at once. This basically means that the best laid plans of staggered releases gets swept away in a tsunami of stock.
Those following on the board game front will be happy to note the arrival of Eleven, a Football Manager board game that will see players hopefully growing their club to greatness. Meanwhile the wargaming focused among you will be happy to note the return of the Alpha Strike Box Set, which has meandered in alongside the alternate Beginner Box containing the VND-1R Vindicator 'Mech and the Northwind Highlanders and Wolf's Dragoons boxes. Role-players will also be happy to note that we have finally managed to restock our D&D shelf after a prolonged regional drought. D&D isn't the only thing in either – there's plenty of weird and wonderful gracing the RPG shelf.
We'll take some time to feature the incoming titles in the upcoming days.
In the meantime, here's the LIST.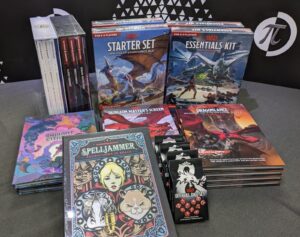 Board and Card Game New Releases:
Eleven – A Football Manager Board Game
Twilight Struggle – Red Sea
Board and Card Game Restocks:
Air, Land and Sea
Air, Land and Sea – Spies, Lies and Supplies
Bang!
Bang! The Dice Game
Coup
Coup Reformation
Onitama and Expansions
Quest
The Resistance
The Resistance Avalon
Tiny Towns
Trails: A Parks Game
Twilight Struggle
Spirit Island
Trial by Trolley and Expansions
Unfathomable
Unfair
Role Playing Game New Releases:
Avatar: The RPG
D&D Dragonlance Shadow of the Dragon Queen
D&D Journeys through the Radiant Citadel
D&D Spelljammer Adventures In Space Bundle
Transformers: The RPG
Warhamme 40,000 Wrath and Glory 2nd Edition Core Book
Role Playing Game Restocks:
D&D Core Rulebook Gift Set
D&D DM Screen
D&D Dragons of Stormwrack Starter Kit
D&D Essentials Kit
Fate Core Book
Paranoia Core Set
Miniature Wargame New Releases:
BattleTech Beginner Box – Vindicator Edition
Northwind Highlanders Command Lance
Wolf's Dragoon Assault Star
Miniature Wargame Restocks:
BattleTech Alpha Strike Box
BattleTech Clan Invasion Salvage Box