Hey PI-Fans,
When they announced it, the Games @ PI Team were extremely excited over a new Warhammer Quest set. Having had good experiences in The Silver Tower, Shadows Over Hammerhal and Blackstone Fortress, we're looking forward to more opportunity for adventuring.
With the Warhammer Community Website's continued focus on Warhammer Quest: Cursed City continuing, the writing team has opted to look at the modular tiles that comprise the street and building environments of the Cursed City of Ulfenkarn. Focusing on the indoor and outdoor locations of the city of Ulfenkarn, these varied urban city tiles will be the site of many a harrowing battle as a motley crew of heroes takes the fight to Radukar the Wolf across the ruined streets of this embattled city of the damned.
Unfortunately, despite their teasing, we still have no clue when Games Workshop plans to roll out their new box game, but we'll continue to keep an eye out. Register your interest for the upcoming box with us in advance, and we'll keep you informed when we got more news about a final release.
In addition, for helping us gauge demand for the upcoming release, you'll receive a little bonus as a sign of our thanks.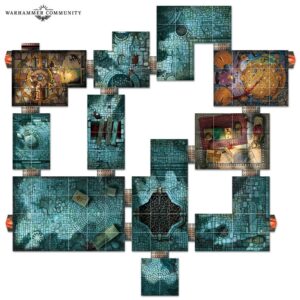 Secure your copy now. $100 deposit, placeable at Games @ PI or at the Games @ PI Webstore.
Pre-registration promotion will end upon official pre-order announcement from Games Workshop or upon announcement by Games @ PI. Reservation order will be taken in order of receipt of deposit. In the event of short supply, orders will be fulfilled according to reservation order. Delivery subject to manufacturer release dates. Reservation will remain open until product release date. Deposit amount will count towards final payment. Additional payment will be required at point of collection based on final MSRP.