Hey PI-Fans,
So you've stormed the hallways of a Silver Tower and fought your way through the chamber of a Blackstone Fortress – moving right along, Games Workshop has been bigging up an all new Warhammer Quest Boxed Game set in the cursed city of Ulfenkarn as a team of heroes, antiheroes, misfits and a very hungry ogor stalk Radukar, the vampiric lord of the city through the ruined streets while fighting off wave after wave of his foul minions. Warhamer Quest: Cursed City is coming SOON TM, and though the final price has as with hobbyists salivating to get their hands on the pretty new models in the box, we're taking reservations for the upcoming set.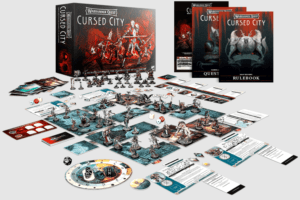 Secure your copy now. $100 deposit, placeable at Games @ PI or at the Games @ PI Webstore.
Reservation order will be taken in order of receipt of deposit. In the event of short supply, orders will be fulfilled according to reservation order. Delivery subject to manufacturer release dates. Reservation will remain open until product release date. Deposit amount will count towards final payment. Additional payment will be required at point of collection based on final MSRP.