Hey PI-Fans,
The latest Pokemon Shining Fates Elite Trainer Box might have dropped over the weekend but we've got no plans to rest on our laurels. On top of the restocks of sought after titles like Codenames, Catan and Dixit, here's the dungeon crawler Sanctum and the abstract city builder Santorini – New York to keep you gaming through the week.
It's also the final week of the month, so if you were interested in taking advantage of our Lunar New Year promos, this is the last week so act fast. Being a co-op junky I'm personally pretty fond of the 'Forbidden Trilogy Bundle' myself. On the wargaming front, while the Blood Angels Crimson Spear Strike Forces are now out, we've still got Astra Militarum Bastion Platoons holding the line until the end of the month at a special price. Also, don't forget to preregister for your Kill Team – Pariah Nexus box to avoid disappointment
Have a great week ahead folks.
– Kenneth, Games @ PI Manager
---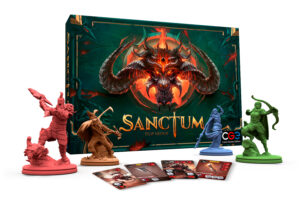 Sanctum is a semi-competitive strategy game inspired by hack-and-slash RPG video games. Each player controls one of four unique characters as they journey into the heart of the fallen city of Sanctum, building up their skills and arsenals along the way to prepare for the final fight against the Demon Lord.
Though the game is competitive, the goal is to destroy the Demon Lord, not each other. So player interaction is a race rather than a fight: Who's furthest along the board? Who will get to choose first when an equipment draft gets triggered? Who will gain the benefit of reaching the Demon Lord first? Who will get to that group of blue demons everyone wants? Who will unlock that achievement and claim the bonus?
Multiple players may survive the fight, but only one may claim the glory of purifying Sanctum.
BUY IT BECAUSE: You're a fan of action brawlers like Diablo but less enamored by fully cooperative titles and backseat quarterbacking.
Grab Sanctum at the Games @ PI webstore!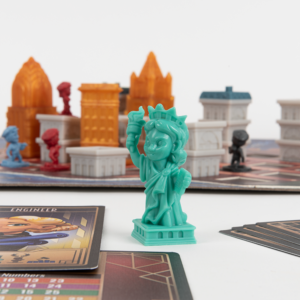 New York New York, the place so nice they named it twice. Santorini – New York puts players in the work boots of builders constructing a grand city at the start of the 20th century. During the game, you will move your workers around Manhattan, raising buildings and skyscrapers. To prove your skill, climb atop the tallest building and look down over the city you have built. Only clever tactical moves and cards will bring you victory. Based upon the abstract classic Santorini and expanded to accommodate five players, Santorini – New York provides an all new challenger for fans of the original while being a great gateway for anyone interested in puzzle games.
BUY IT BECAUSE: You want to play Santorini with more people, like puzzle games or just want to play with adorable plastic buildings.