Hey PI-Fans,
How's your day been going? Covid-19 is still around but we were able to hold pockets of mini events over the past few months!
Pokemon TCG Junior Learn to Play Mini-Events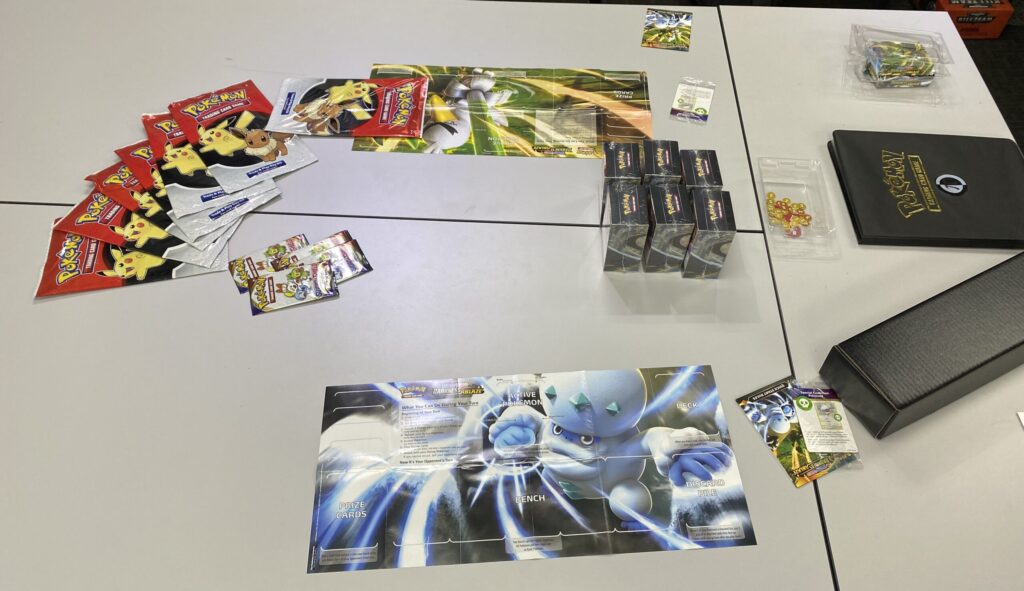 We had 2 excellent days of Pokemon Trading Card Game Junior Learn to Play events over the school holidays!
Held on Tuesday September 8 and Friday September 11, a total of 7 pairs of parents and kids sat down for a workshop to learn the game!
Each pair received an activity sheet and a pre-release deck box with 4 booster packs. Our friendly Gor Gor Vernon taught everyone how to construct a 40 card deck. Once ready, the pairs were taught the basics of the game and challenged each other to battles!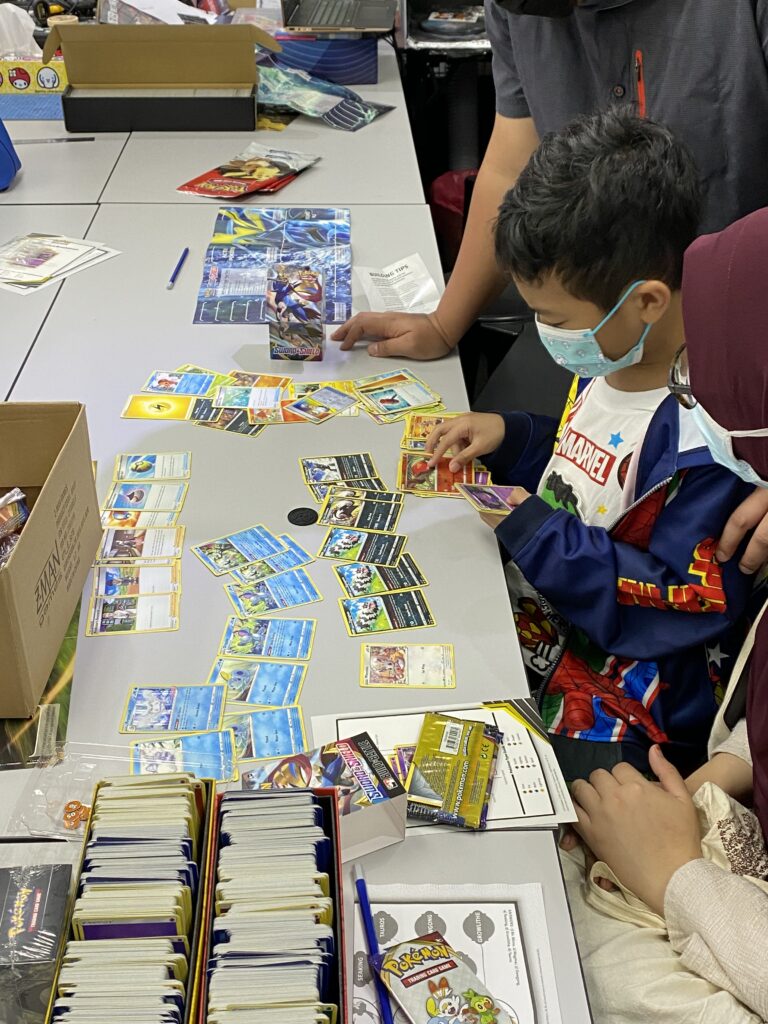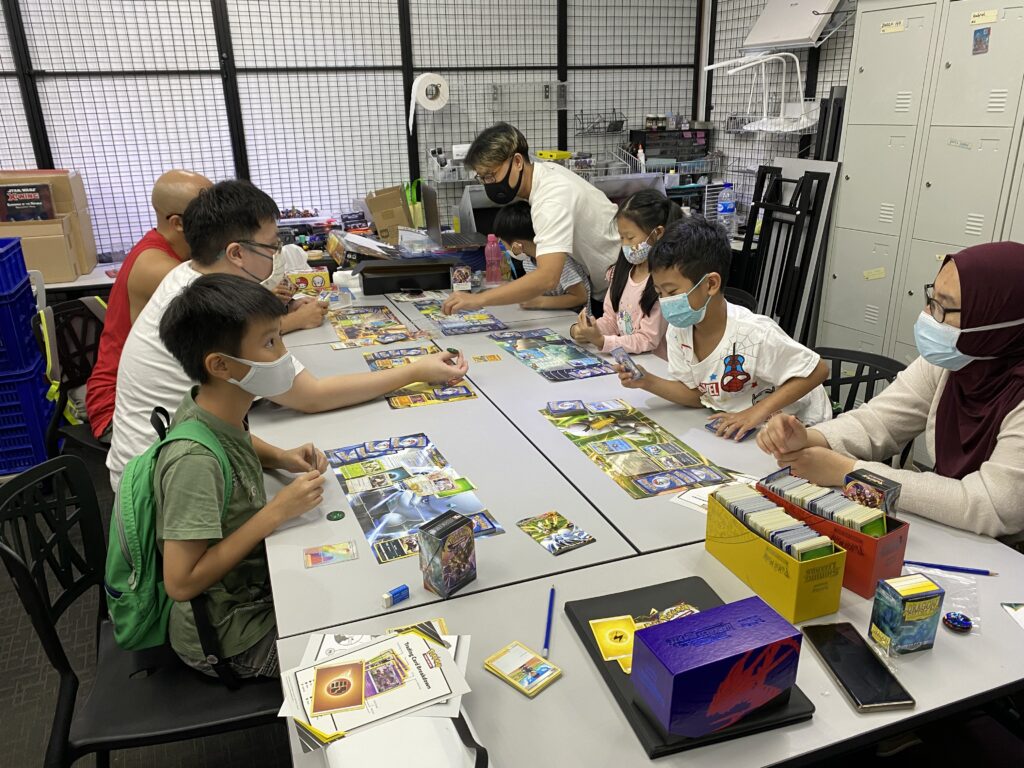 Vernon also showed the parents and kids his collection of authentic and fake cards to show them the difference! Lots of times people unknowingly purchase bootleg Pokemon card products unaware that they exist. Rest assured, Games @ PI only sells genuine Pokemon TCG products so you can buy with confidence!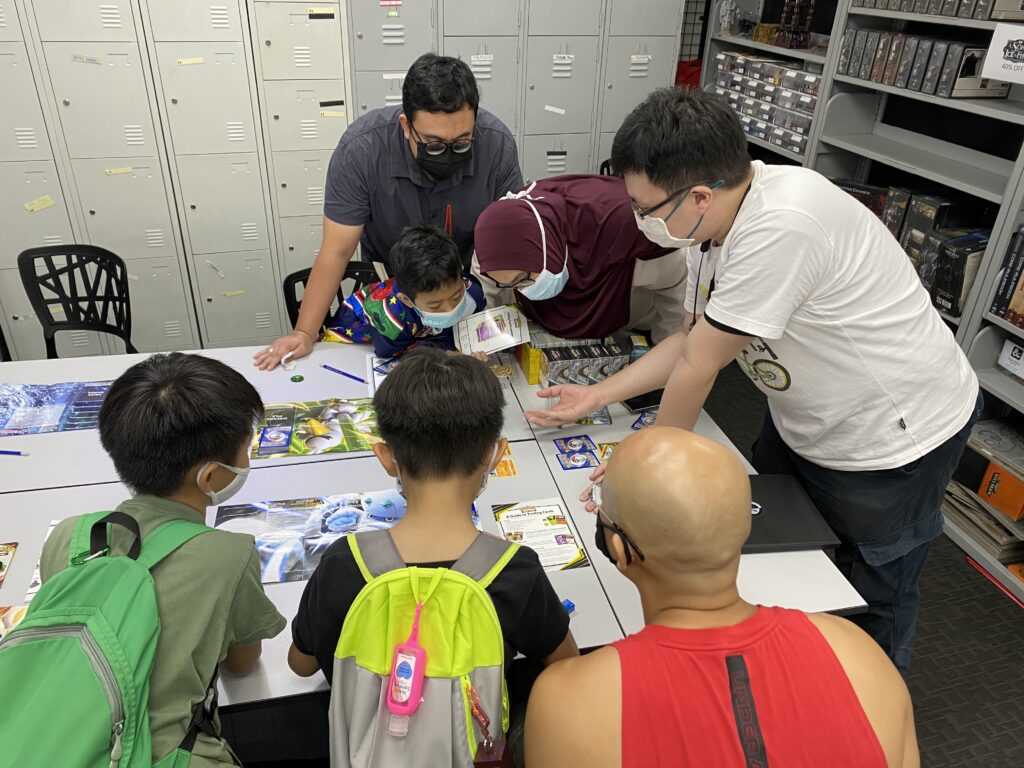 Everyone walked away with their own starter decks and excited to play more games in future! Some kids also brought their own collections of cards and traded some rare ones with each other too! Thank you to all our participants for attending! We will be holding more Pokemon TCG events in future and will let everyone know when we do!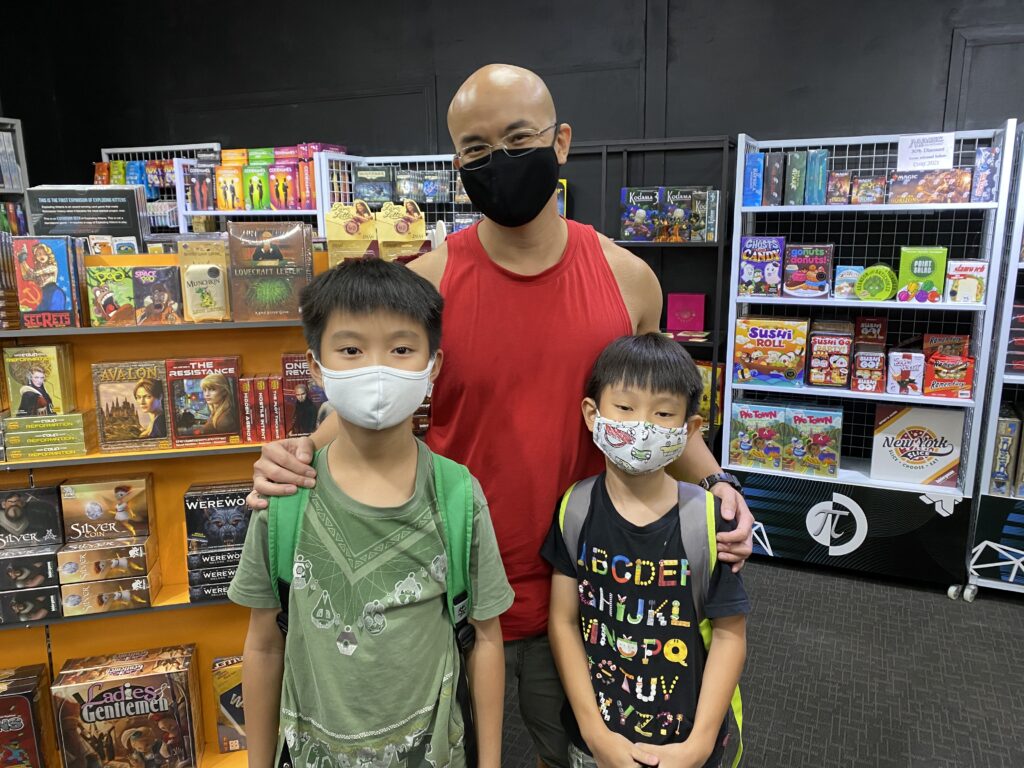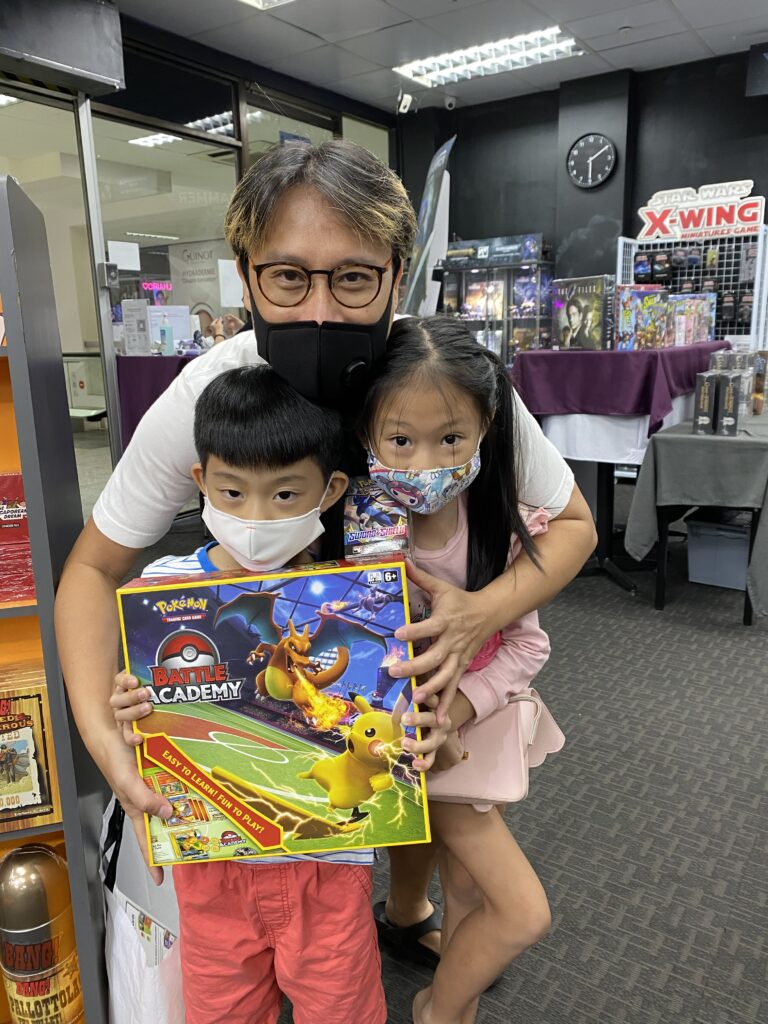 Warhammer 40k Learn to Play Demos
We've also been hosting Warhammer 40,000 Learn to Play demos on Sundays and Monday evenings. Participants are shown the basics of the game: How to Move, Shoot, Charge and Fight. Then play a quick game with our store models to get the hang of things! Vernon, who is also our 40k expert, has taught the game to various participants from curious walk-ins to eager newbies and returning veterans who are back to play the latest rules!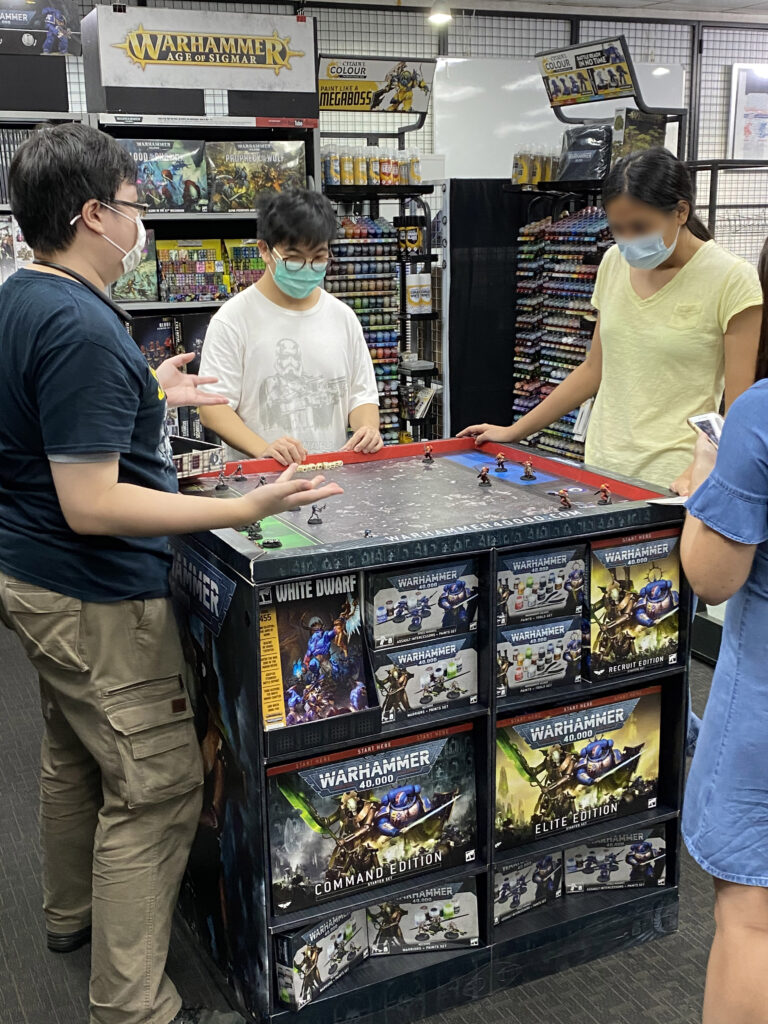 A participant, Mr Ivan Tan, brought his 2 sons and wife to learn the game one Monday evening. They had a wonderful time at the session and went home with the Recruit Edition Starter Bundle, a Start Collecting Astra Militarium Box and excited to play more games! Thanks Ivan and fam for coming and we hope to see your armies soon!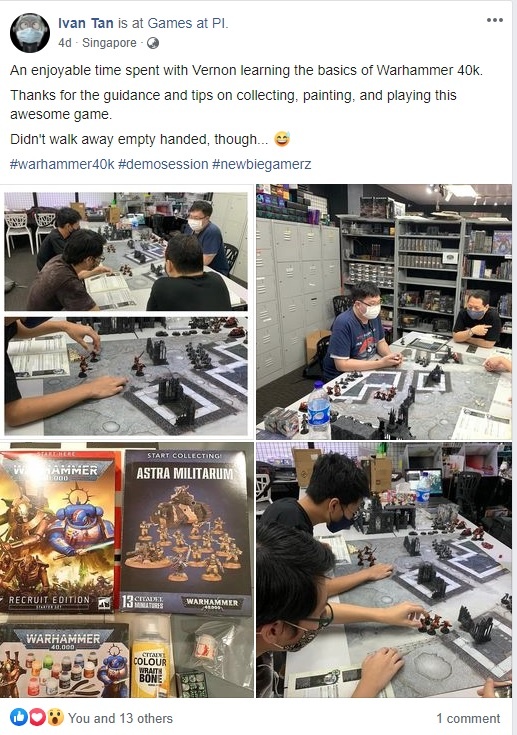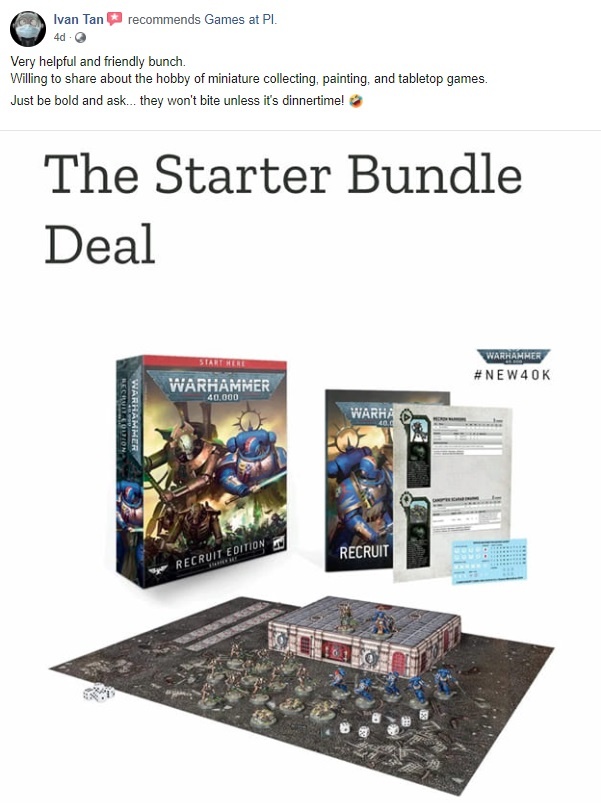 So come on down and learn the game with us! Book a demo at our booking page and we'll be more than happy to show you the game!
We're also running a Warhammer 40k Promotion: Book and attend a 'Learn to Play' demo and you get 1 chance to win a limited edition Warhammer 40k Indomitus Box Set! If you bring friends along to learn the game, you get +1 chance! Your friends ALSO get 1 chance! Click the image for info!
Speaking of which…
Indomitus Promotion Thus Far
We've had a sizable number of participants since August! On top of the leader boards so far is Gabriel of gab.paints.stuff with 5 chances earned! Gabriel has been playing lots of 40k games and tagging us to show his Crusade adventures! You're doing great Gabriel!
We also received a 40k fan art from Louis with his awesome drawing of a Necron Overlord and Warriors! That's really cool!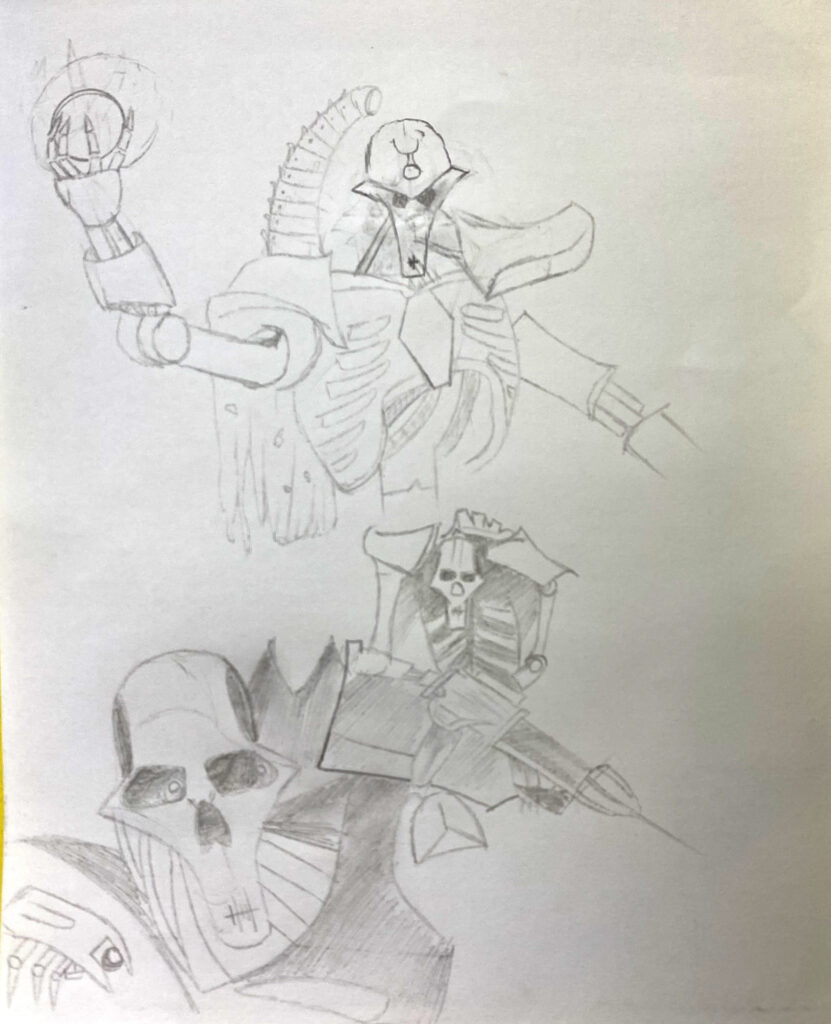 You still have till October 31 to join in the Indomitus draw! So hit the promotion link, learn the game and bring more friends into the hobby to earn those chances!
Stay tuned to our Website, Facebook and Instagram for more news and PI-happenings! Never miss an update! Subscribe to our Telegram Channel!