Hey-PI-Fans,
The Pokemon – Silver Tempest Elite Trainer Box and Pokemon – Silver Tempest Booster Packs are now in stock at Games @ PI. The last mainline release for Sword & Shield, Silver Tempest focuses on Radiant, VSTAR and VMAX mechanic for the set, with the Silver Tempest Elite Trainer Box and it's contents themed on Alolan Vulpix (and it's VSTAR).
Traditional gamers shouldn't worry though. Along with the Pokemon comes Punto, a teeny tiny light strategy card game in a tin. Easy to learn, fast to play and eminently portable, Punto has players scrambling to pile cards over each other to achieve straight lines. This portable sized tin, makes for a great little pocket sized portable distraction that's simple to break out and teach and is excellent for everything from vacations to picnics.
---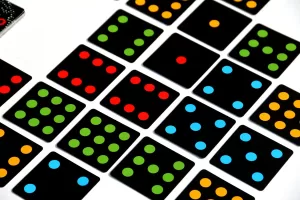 Get to the points! Flip your top card and add it to the grid – or cover an opponent's card showing lower points. Be the first to get four-in-a-row and end up on top!
Punto includes four decks of 18 cards each, with each deck having cards with 1-9 dots on it twice. You shuffle your cards to form a face-down deck. On a turn, place your top card somewhere in a 6×6 grid that adjacent to cards already played, or you can place your card on top of another card as long as your card has more dots on it than the card being covered. As soon as you create a row of 4 cards in your color, you win the round. Remove the most dotty card in that row from the game, then everyone shuffles their decks and beings a new round. Whoever wins two rounds first wins the game!
For 2 to 4 players
Ages 7+
About 20 minutes