Hey PI-Fans,
Last Sunday, we ran the Roll Persuasion – How to be an Effective Communicator With Your Child workshop at Games @ PI with Swords & Stationery. Conducting the workshop was our speaker Shaun, from S&S, himself an accredited educator. Shaun gave a stirring lecture on the basis of communication and talked about why parent-child relationships broke down. An avid gamer himself, Shaun also had recommendations for many games he used in his classes as well as titles he himself was fond of.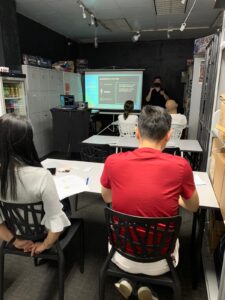 Shaun will be back this week for his second session, Young Minds, Steel Hearts where he discusses the challenges and techniques of running RPGs with a younger audience in mind.
---
Young Minds, Steel Hearts – Designing and Running an RPG Session for Kids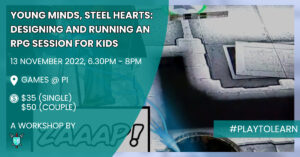 13th November 2022, 6.30 – 8.00 pm
This workshop is for parents of children and teens between the ages of 7 to 14. It aims to instruct participants on how they can design and run an RPG session for younger audiences. Participants will be guided on how to craft engaging narratives and encounters for younger audiences, as well as how to make each session meaningful and even educational. The workshop will also go into detail on how younger players may participate in an RPG differently from older ones.
---