Hey PI-Fans,
Another week chugging along, another week of new products hitting the shelves. We're taking a brief break from out MTG Learn to Play Event (come and play with us btw) to take another TCG out for a spin. We've gotten our allocation of Pokémon TCG: Sword & Shield Ultra-Premium Collection—Charizard (that's a mouthful), featuring the original 'not-dragon' dragon Charizard, so if you want to secure yours, shoot us a call ASAP.
On the board game front, Picture Perfect has hit the shelves, a chaotic photography board game of wrangling participants with often contradictory desires into the best possible positions to take an event photo in a game that will have you shoving around physical standees to fulfil the demands of the photo participants to the best of your ability.
They're weird bedfellows to arrive at the same time, but this does little to detract from them being awesome games regardless.
---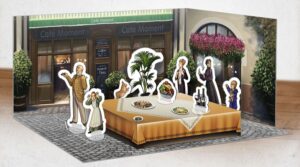 How do you take the perfect picture of a group of people if you only have one try? Each character has different wishes. Some want to be at the front of the picture; some want to stand next to another; and some really don't want to be next to that one particular person by any means.
In Picture Perfect, you need to arrange fourteen characters to take the perfect photograph. Each of them has three specific desires that you want to fulfill. Unfortunately, these desires are hidden in envelopes.
Do your best to make everyone happy – even if you don't actually know all the characters' preferences…
For 2 to 4 players
Ages 10+
About 45 minutes
---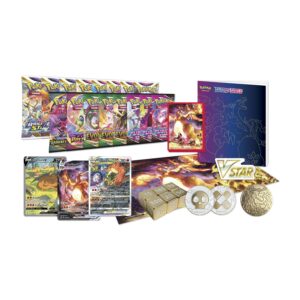 Celebrate the Sword & Shield Series and the era of Pokémon V, Pokémon VMAX, and Pokémon VSTAR with a hotshot who knows how to put all that power to good use! Charizard turns up the heat as a trio of promo cards with an etched foil treatment, and its Gigantamax form shows off blazing style on a playmat, metal coin, and set of card sleeves. Metal dice and condition markers round out this ultimate set of gameplay accessories. And as you open the huge stack of booster packs inside this box, take a journey through the Sword & Shield Series with an original booklet full of images and stats!
The Pokémon TCG: Sword & Shield Ultra-Premium Collection—Charizard includes 3 etched foil promo cards: Charizard V, Charizard VMAX, and Charizard VSTAR, playmat featuring Gigantamax Charizard, 65 card sleeves featuring Gigantamax Charizard, metal coin featuring Gigantamax Charizard, metal damage-counter dice, 2 metal condition markers, acrylic VSTAR marker, 16 Pokémon TCG booster packs from the Sword & Shield Series, player's guide to the entire Sword & Shield Series, code card for Pokémon TCG Live
---