Hey PI-Fans,
I'm not out-of-touch with reality to make a Pokémon GO TO THE POLLS joke, as tempting as it might be. What we have on hand however, is the release of the second wave of Pokémon GO CCG sets, including the Elite Trainer Box and Radiant Eevee Premium Collection. With Pokémon GO CCG Boosters currently unavailable to purchase, these sets represent the best way to get your hands on cards from those sets and an excellent way to supplements the Pokémon GO Alolan Exeggcutor V and Team Leader Collections and Trainer Toolkit.
As before, each of the following three Pokémon GO products comes with a promotional Professor Willow themed Professor's Research card as well as a Pokémon GO themed Pikachu. Each Professor's Research comes printed with a unique redeemable code designed to be redeemed in the Pokémon GO app itself (Codes Expire 31 July 2023).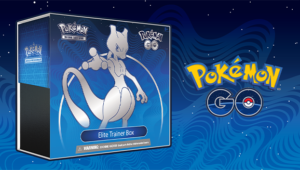 POKEMON GO ELITE TRAINER BOX
Gear up for battle like never before as Pokémon GO meets the Pokémon Trading Card Game! The Pokémon TCG: Pokémon GO Elite Trainer Box is a great way to get started with this exciting new expansion thanks to the ten Pokémon TCG: Pokémon GO booster packs included. Not only that, but you'll get a foil promo card featuring Mewtwo V. This Elite Trainer Box also includes plenty of other useful items for playing the Pokémon TCG. There are 65 card sleeves featuring Mewtwo to keep your deck in good condition, 45 Energy cards to power up your team, damage-counter dice and a coin-flip die, acrylic condition and VSTAR markers, and a player's guide to the Pokémon GO expansion. It all comes in a sturdy collector's box that's perfect for storing your cards. You'll be ready to go with this cool set!

10 Pokémon TCG: Pokémon GO booster packs

Each booster pack contains 10 cards and either 1 basic Energy or 1 VSTAR marker. Cards vary by pack.

1 foil promo card featuring Mewtwo V
65 card sleeves featuring Mewtwo
45 Pokémon TCG Energy cards
A player's guide to the Pokémon GO expansion
6 damage-counter dice
1 competition-legal coin-flip die
2 acrylic condition markers
1 acrylic VSTAR marker
A collector's box to hold everything, with 4 dividers to keep it organized
A code card for Pokémon TCG Live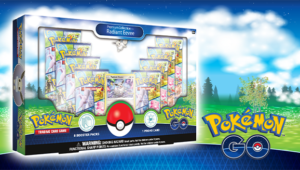 POKEMON GO RADIANT EEVEE COLLECTION
With their unique coloration, Shiny Pokémon are usually tough to find, but the adorable Radiant Eevee is eager to join your team in this collection filled with tons of treasures! Included as a foil promo card in this set, Radiant Eevee offers the Twinkle Gathering attack that allows you to search your deck for a number of cards up to the number of different types of Pokémon you have in play. Power like this means that you can only have one Radiant Pokémon in your deck.
In addition to this special card, you also get a glossy enamel pin, a playmat that shows off beautiful artwork of this rare Pokémon, and eight booster packs from the special Pokémon GO expansion.
A foil promo card featuring Radiant Eevee
A deluxe pin featuring Radiant Eevee
A playmat with artwork featuring Radiant Eevee
8 Pokémon GO booster packs

Each booster pack contains 10 cards and either 1 basic Energy or 1 VSTAR marker. Cards vary by pack.

A code card for Pokémon TCG Live