Hey PI-Fans,
Hope you've been weathering this period. We've taken the opportunity to get some housecleaning done on our end and there's a wealth of new stuff finding it's way to our shelves. It's probably worth mentioning that we've stocked up on the Marvel Champions LCG range, so if you want to get your superheroing on, this seems like a good time.
On top of that, we've just reloaded our party games shelf, so if you're a fan of games of the slightly wonk persuasion, Exploding Kittens is back on our shelves along with the Exploding Kittens Party Pack to join our ever popular Trial by Trolley. Returning as well are Poetry for Cavemen, Bears vs Babies and On a Scale of One to T-Rex.
The following sets are now in-stock at Games @ PI and we'll be getting them up on the webstore as soon as we can. If you can't wait, drop us an email at webstore@pi.com.sg and the staff will get you sorted as soon as we can.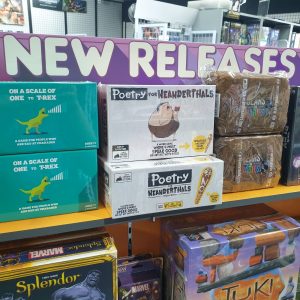 New Releases and Key Restocks:
Marvel Champions: The Card Game Core Set
Marvel Champions: The Green Goblin Scenario Pack
Marvel Champions: The Wrecking Crew Scenario Pack
MC LCG: Captain America Hero Pack
MC LCG: Ms. Marvel Hero Pack
MC LCG: Thor Hero Pack
MC LCG: Black Widow Hero Pack
MC LCG: Doctor Strange Hero Pack
MC LCG: Hulk Hero Pack
Marvel Champions: The Rise of Red Skull Expansion
Marvel Champions: The Once And Future Kang Scenario Pack
MC LCG: Ant-Man Hero Pack
MC LCG: Wasp Hero Pack
MC LCG: Quicksilver Hero Pack
MC LCG: Scarlet Witch Hero Pack
Exploding Kittens
Exploding Kittens Party Pack
Trial By Trolley
On a Scale of One to T-Rex
Poetry for Neanderthals
Bears vs Babies
Here to Slay
Unstable Unicorns and Expansions