Hey PI-Fans,
It's another odd pairing hitting our shelves with the exceedingly chill nature walks of Parks running face first into the mecha rampage that was BattleTech's Battle of Tukayyid sourcebook.
Besides the new, this isn't to say we've been sitting around twiddling our thumbs either. Alongside titles like the Tukayyid Map Pack and Space Parks, we recommend the ever popular Who Should We Eat? is back in stock if ever you should fancy a sudden spot of cannibalism, as is Deception: Murder In Hong Kong if you're after a hidden traitor game for your group. If you want something you for a short spot of gaming with friends and loved ones, don't overlook titles like Splendor, Onitama, Hive or Set either.
How did we end up with supplies of what is essentially Giant-Robot-Kursk and Keymaster's game of nature trekking arriving simultaneously? No clue. The way global shipping currently works is a mystery to us – a giant boat wedged in a narrow canal mystery. Regardless If either title grabs your attention, read on.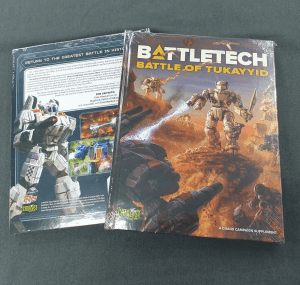 On 1 May 3052, over twenty Galaxies from seven Clans clashed with twelve Armies of ComStar's Com Guards. For twenty-one days, one of the largest campaigns in BattleMech warfare unfolded to decide the fate of the Inner Sphere.
The Battle of Tukayyid brings players back to this gargantuan conflict, allowing them to relive one of BattleTech's most pivotal moments. It builds off of the Chaos Campaign: Succession Wars framework to unleash a massive experience players will enjoy across dozens of games. Each of the seven campaigns within includes the following: a short fiction entry and write-up of the battle, including a map of the regions; the specific Combatants involved, along with insignia; and details to allow players to play out each campaign on their tabletop. Finally, a technical readout section showcases 'Mech variants that first appeared during this conflict.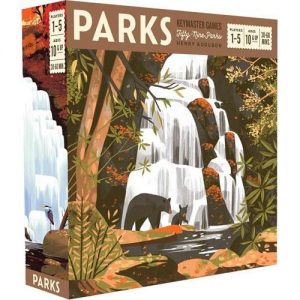 In PARKS, players will take on the role of two hikers as they trek through different trails across four seasons of the year. While on the trail, these hikers will take actions and collect memories of the places your hikers visit. These memories are represented by various resource tokens like mountains and forests. Collecting these memories in sets will allow players to trade them in to visit a National Park at the end of each hike.
Each trail represents one season of the year, and each season, the trails will change and grow steadily longer. The trails, represented by tiles, get shuffled in between each season and laid out anew for the next round. Resources can be tough to come by especially when someone is at the place you're trying to reach! Campfires allow you to share a space and time with other hikers. Canteens and Gear can also be used to improve your access to resources through the game. It'll be tough to manage building up your engine versus spending resources on parks, but we bet you're up to the challenge.