Hey PI-Fans,
Nothing says random quite like a strange smattering of board games, card games, miniatures and dice. This, on the other hand does happen from time to time, since the restocks for the week include a pile of weirdness with Renegade Games' Aggretsuko Work/Rage Balance, Leder Games' Ahoy. You'll also be seeing more of Brass Lancashire, Camel Up and Cascadia, as these amazing titles have drifted in aboard the same boat.
On the miniature front, few of BattleTech's mercenary units have quite the storied (and strange) reputation of Snord's Irregulars, a famed unit notorious for their tendency towards insubordination and their eccentric magpie-like obsession with "collecting" (or looting) valuables. The Snord's Irregulars Assault Lance leads another wave of BattleTech Merc boxes, with no guarantee of resupply once they disappear.
Then come the Dice. Loads and loads of dice as a long delayed shipment finally completes the journey, leaving us loaded to the gills with all sorts of shiny rollable 'gamer candy'. Plenty of D6 and 7-dice sets should keep both the RPG and tabletop wargame communities satiated with plenty to graze over.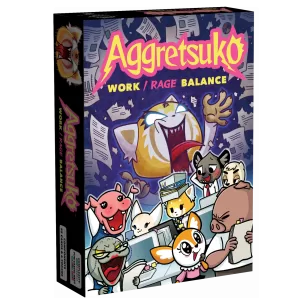 Aggretsuko Work/Rage Balance is a fast-playing card game for 3-6 players based on the unfortunately relatable anime about office workers trying to survive the daily grind. The game is played over five hands, each one representing a day at the office. Gameplay is a solid 'ladder' style poker with players attempting to play cards of higher suites and/or hands in order to discard them, with an ability to rage in order to drag a previously played card back into players hand. Faced with an imbalance of responsibilities, players attempt to empty their hand of cards first in order to go home and avoid overtime.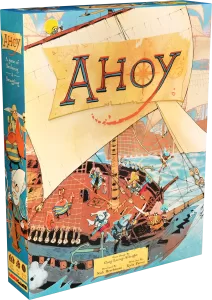 Yet another feather in Leder Games' ever expanding repertoire of asymmetric games, Ahoy sees 2-4 players thrust into a conflict between The Bluefin Squadron and the Mollusk Union. The Bluefin Squadron is aggressive and dominant in combat with the ability to overwhelm any other faction ship in single combat. The Mollusk Union forces are fast and flexible however and specialize in swift repositioning and cunning redeployment of force.
Other players are smugglers, tasked with buzzing around the islands, moving goods to where they are in-demand, while trying to stay out of the way of the warring parties – however, in doing so, they up the wealth of the regions in question, increasing the risk of the Mollusks and Bluefins turning their eye to the area where the trades are taking place.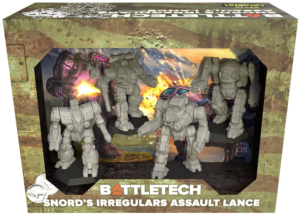 Unleash the Snord's Irregulars Assault Lance! Included is the new Spartan and unique-to-the-Irregulars FrankenMech, a jumping Guillotine, and new variant of the Highlander—no assembly required—along with four MechWarrior pilot cards and four Alpha Strike cards. Perfect for BattleTech and Alpha Strike action!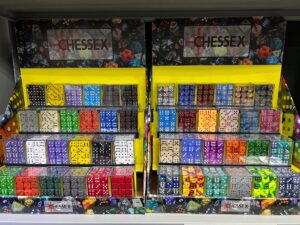 ---
Board and Card Game New Releases:
Aggretsuko Work/Rage Balance
Ahoy
Board and Card Game Restocks:
Bristol 1350
Diplomacy
Eleven
Park
Poetry for Neanderthals
Red Flags Core
Robo Rally
MIND MGMT: The Psychic Espionage Game
Mysterium Park
Sheriff of Nottingham
Trial by Trolley
Zombie Kittens
Miniature Wargame New Releases:
BattleTech: Snord's Irregulars Assault Lance
BattleTech: Proliferation Cycle Pack