Hey PI-Fans,
Don't Panic. Magic the Gathering is doing timey-wimey nonsense on the Tardis and we are coming along for the ride.
We're taking preorders for the following products at the listed prices below. Due to the limited nature of the release, we will only be selling boxes as sealed product.

No refunds for cancellation.
All orders must be placed with full deposit (Deposit will be refunded in the event of manufacturer short supply).
In the event of shortage, priority will go to orders placed and paid for earlier.
We are accepting preorders from customers in good credit standings only.
Release date subject to manufacturer.
Place order and deposit directly at Games @ PI. If not possible, contact us ASAP and we can arrange for electronic transfer for the deposit. Preorder window may close early subject to manufacturer.
DEADLINE FOR PREORDERS
Monday, 25/9/23, 1500 HRS
---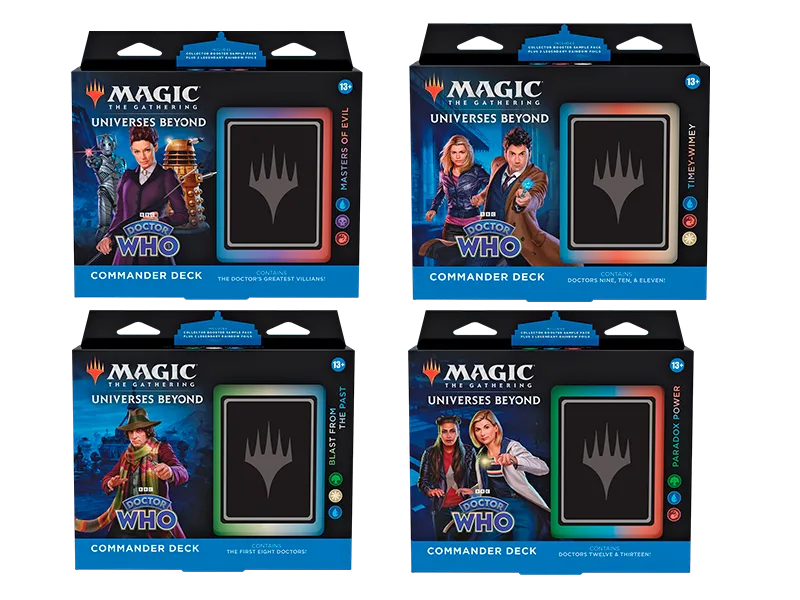 MTG: Universes Beyond: Dr. Who – Commander Decks
Set of 4 Decks: $270
This Dr Who Commander Deck set includes 4 ready-to-play deck of 100 Magic cards (2 Traditional Foil Legendary Creature cards, 98 nonfoil cards), a 2-card Collector Booster Sample Pack (contains 1 Traditional Foil or nonfoil special treatment card of rarity Rare or higher and 1 Traditional Foil special treatment Common or Uncommon card), 1 foil-etched Display Commander (a thick cardstock copy of the commander card with foil etched into the card's border and art), 10 double-sided tokens, 1 Helper card, 1 deck box (can hold 100 sleeved cards), 1 Life Wheel, 1 strategy insert, and 1 reference card.
MTG: Universes Beyond: Dr. Who – Collectors Boosters
Set of 12 Boosters: $325
This Dr Who Collectors Booster Set includes 12 Collector Boosters and 1 Traditional Foil Box Topper card. Each Collector Booster contains 15 Magic: The Gathering cards and 1 Traditional Foil double-sided token, with a combination of 5–7 cards of rarity Rare or higher and 3–5 Uncommon, 3–6 Common, and 1 Land cards. Every pack contains a total of 8–10 Traditional Foil cards.