Hey PI-Fans,
Just because we're now awash with promotions on the board game and miniature fronts for the month of February doesn't mean we've given up bringing in new toys to tickle your fancy. The new stuff is going to keep coming, so don't go running for the lifeboats just yet.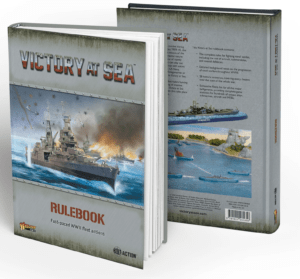 Admirals On Deck! If you've got anything resembling a passing interest in World War 2 naval combat, you owe it to yourself to go check out the Victory at Sea Core Rulebook. This hefty full-colour tome not only contains the rules you'll need to start lobbing 15-inch shells in every direction, but comes loaded with fleet lists for the six major naval powers of the Second World War to take to sea. The rulebook even devotes a good chunk of itself to explaining the conditions leading up to the Naval Treaties which shaped naval design, naval doctrine and historical scenarios ranging from the climatic battles of Matapan and Midway to the savage war-to-the-knife fights off Guadalcanal and the Russia Convoys. USN, RN, IJN and KM Fleet boxes and the Battle for the Pacific Two-Player Starters have also been reloaded, so prepare to cast off!
BUY IT BECAUSE: You're a fan of fleet naval wargaming or you like big boats and you cannot lie.
GET THE VICTORY AT SEA CORE RULEBOOK AT THE GAMES @ PI WEBSTORE!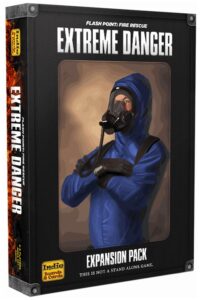 If you enjoyed Flash Point: Fire Rescue and you wanted to bling it out, look no further than Flash Point: Fire Rescue – Extreme Danger! Extreme Danger is a boxed expansion pack for Flash Point: Fire Rescue which includes six different building configurations to expand your base. In addition, it includes a whole stack of adorable firefighter-specific miniatures (with colored bases), as well as tokens for explosive objects, hazardous equipment/chemical spills, and fire-proof doors to make your lives even harder.
BUY IT BECAUSE: You thoroughly enjoyed Flash Point Fire Rescue and you want to make your life more difficult or you just like owning little firefighter figurines.
GET THE FLASH POINT: FIRE RESCUE – EXTREME DANGER EXPANSION PACK AT THE GAMES @ PI WEBSTORE!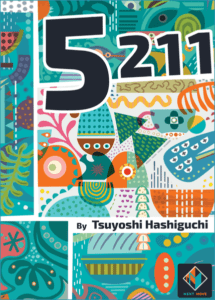 5211 is a brilliant little passive aggressive trick taking card game from Japanese designer Tsuyoshi Hashiguchi. Each player starts with a hand of five cards ranging from one to six in five different designs. Players play two cards face-down, then simultaneously reveal them. They refill their hand, then repeat this process two more times, but only with one card. The cards of the majority color will score — unless too many are present, in which case the color busts and the second most color scores. Ultimately this leads to an ongoing war between greed and spite. Do you pump a scoring suite, hoping to reap big, or do you intentionally drop cards to bust potential big scores to ruin your opponent's day. Simple, yet brilliant, this abstract title is not one to miss.
BUY IT BECAUSE: You're fond of abstract trick taking games, or you're really secretly a spiteful person who is less in it to win than to watch the world burn.