Hey PI-fans,
How's your day going? Yup, the Pandemic is still around but we can all still have a laugh about it! We had the good fortune to interview the 2 creators of Bye Bye Virus: Denise Lim and Yasmine Khater!
Q: What was the main spark that inspired you both to make a card game about keeping yourself safe from the virus?
We wanted to do something useful with ourselves when we were stuck during the Circuit Breaker! During that period, we were both frustrated with the misinformation that was going around about how to stay safe against viruses, with people dressing up in dinosaur suits (as a joke) to hoarding toilet paper. We wanted to develop a fun way to teach kids and adults about good hygiene and socially responsible behavior, and used Bye Bye Virus as an outlet for that. We also built in a lot of laughs into the game because we believe in the power of humor in reframing the situation.
Q: Could you tell us about the initial prototype and what it looked like?
Bye Bye Virus has gone through over 50 iterations, with the first couple of prototypes built with cut-up paper and my horrendous drawings. Given that we were in Circuit Breaker, we had limited access to resources. We found ourselves cutting up paper, to drawing on post-it notes, before eventually graduating to basic printing of icons on white paper. It was definitely a fun process.
Q: Because people couldn't really meet up to playtest the game, how were you able to conduct playtesting?
We had to get very creative in the playtesting for Bye Bye Virus, and did it in 2 ways – Using Lalamove/Grab to deliver game sets to our testers (and getting them to deliver the sets back to us after the test), and testing the game via Zoom (sending the softcopy to friends, who had to print them out on paper and cutting them up into cards).

Q: What were the observations made during those playtests and what did you tweak which led to making the game flow better?
Given that we went through over 50 iterations, we made numerous changes to the game, from adding in a physical element to make the game more active (so kids will be more engaged), to changing the quantity of each type of cards to balance the game play.
Some other changes included:
– Adding in surprise elements that will make the game more unpredictable; we added a Police! card that can stop someone from winning and a Government card that will allow anyone to make up a new rule that everyone has to follow
– Disproportionate ratio of males versus females; we requested the designer to redesign the characters to ensure a better balance
– Adding in physical element to make the game more interactive; we added a 'No touching of face' rule that will cost you a card!
Q: Could you elaborate on how you put together a Kickstarter and the things you did for the campaign?
Since it was our first time launching a Kickstarter, we planned only 5 weeks for the development of the campaign, without realizing that it usually takes 3-6 months!
– Get an account set up and approved for Kickstarter
– Develop the design and content
– Film a video and record a Rap!
– Build a pre-sales list (getting commitments from friends and family)
– Put everything together and launch!
– Follow up on the commitments (basically bug everyone who had committed to buy the game)
– Reach out to press to get a feature (we were featured on
Straits Times
, which helped with fulfilling our Kickstarter goal in 1 day)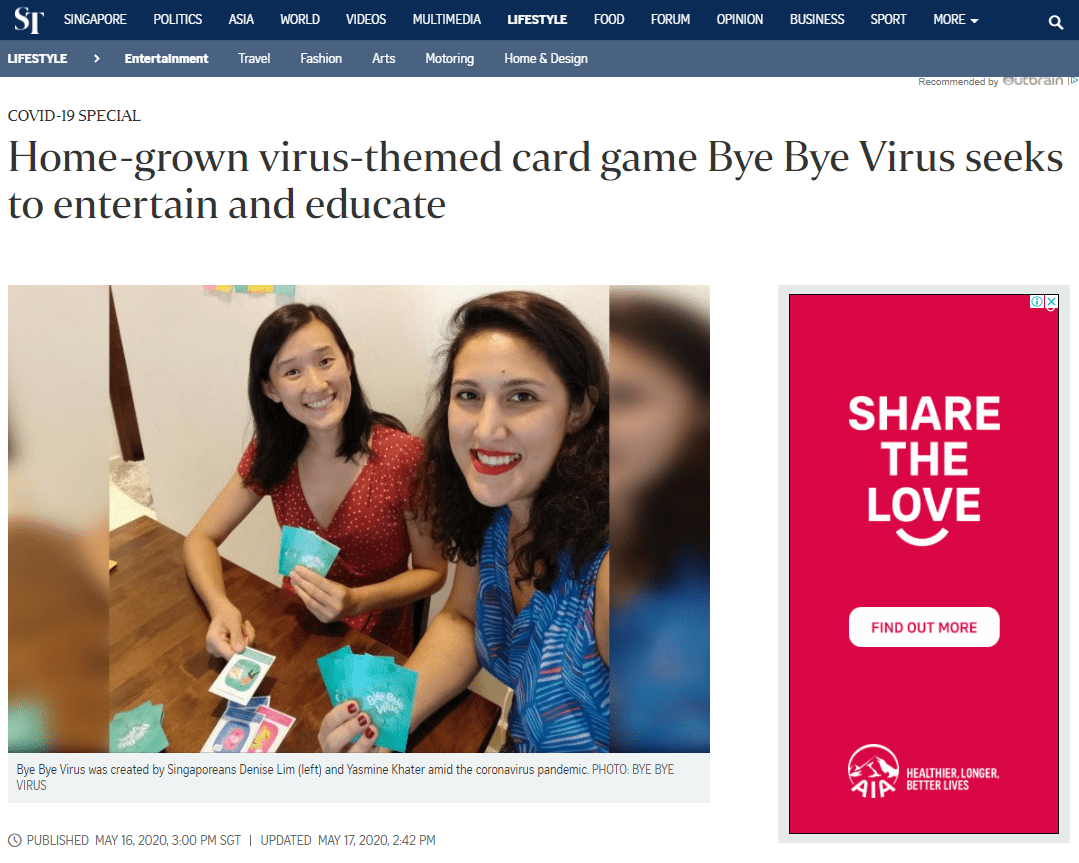 Q: As this is your first game, what were the major hurdles that you had to overcome to get the game made?
This is a great question…instead of hurdles, I'll call them lessons that we had to learn and things we had to pick up. We had to learn everything from scratch, from understanding game design/mechanics, character design, testing to manufacturing and distribution. We definitely underestimated the amount of effort that would have been required to get a game made (now we understand….), but I have to say that we had a lot of fun through the entire process. Right now, our major obstacle that we are trying to figure out is distribution, so please share advice if you have been through this with your game!
Q: Any plans for future games?
Definitely! Now that we have built up a system for this, we are excited to get started on future games that will gamify education. Yasmine has her eyes on developing a new game called Free the Grannies – you'll have to reach out to us if you are interested to find out more!
Thanks so much for your time Denise and Yasmine! Looking forward to hearing more about your new projects!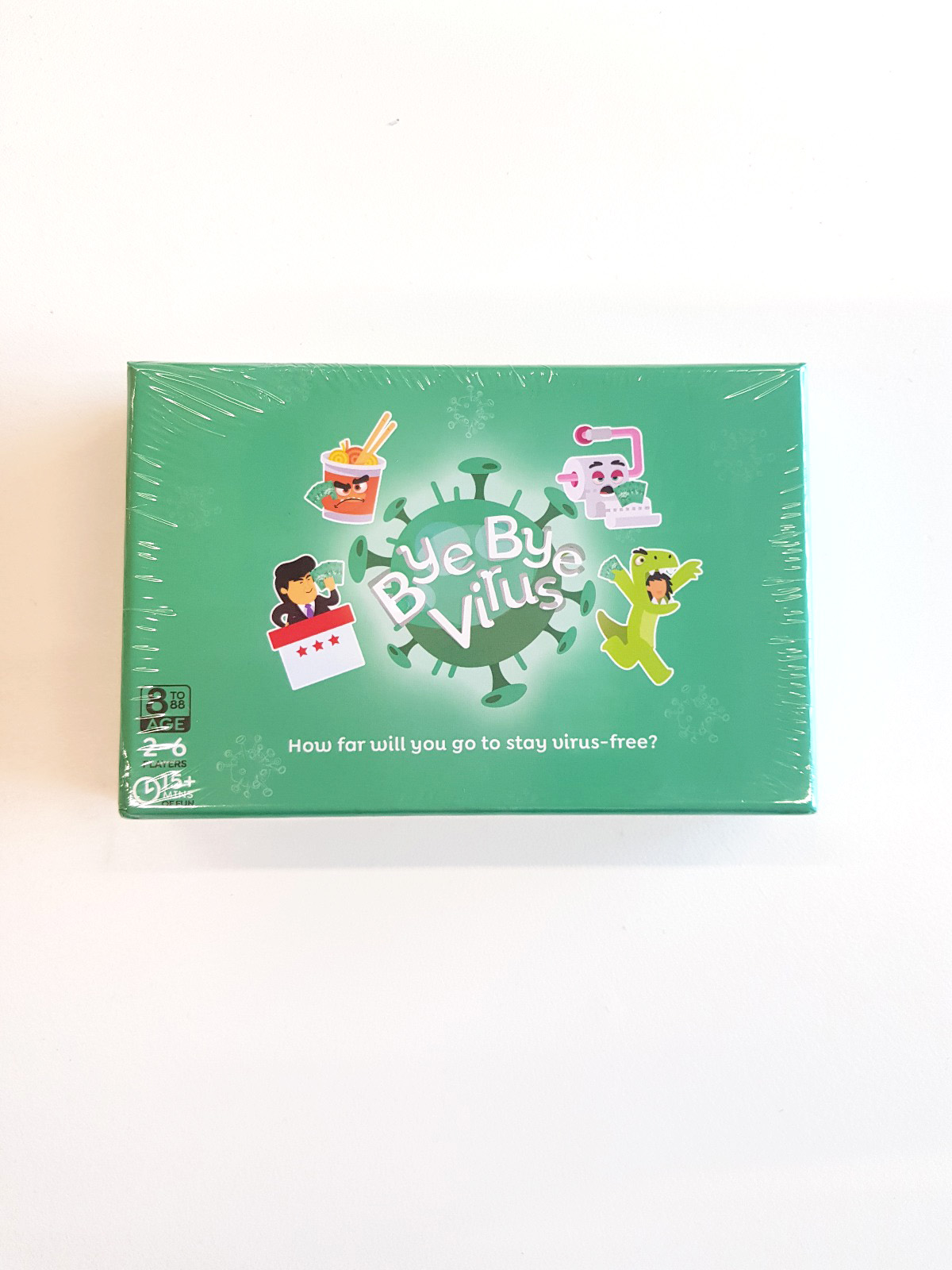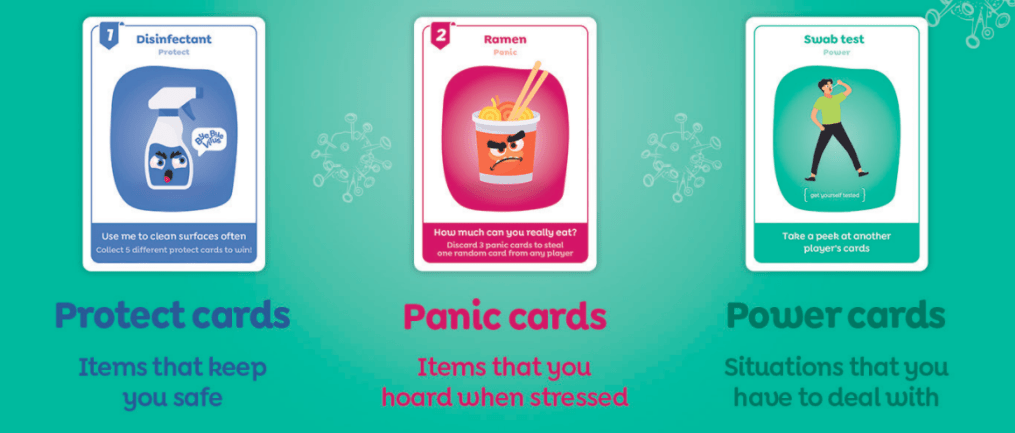 Bye Bye Virus pits players in a virus situation where your goal is to keep healthy and stay safe! Collect 5 protection items like face masks, hand sanitizers, gloves and soap to win! But in all craziness, situations change: players could hoard essentials like toilet rolls, cup noodles, canned food. Players could play a government card and change the rules and make other players do silly tasks. If you're not careful, you could get caught by the cops for breaking quarantine or lose cards if a player catches you touching your face!
A zany game that everyone can enjoy! Because, why mope about the current situation when you can have a laugh?
For 2-6 Players, 15 Minutes Playing Time, Ages 8+
Pick up a copy of Bye Bye Virus at our retail store or at our webstore!