Hey PI-Fans,
We've furnished a fantastical feast of fancy fun.
Now that I've gotten that out of my system, it's worth mentioning that one of our long delayed shipments has suddenly just popped out of thin air and made it's way to our shelves.
Spread across the New Stuff shelf are three new titles and a pair of new expansions from some wildly varying from head-to-head wargames for those of the strategic persuasion to adorable furniture battles of feline domination. Card gamers can likewise, celebrate the arrival of new Pokemon, with a small restock of Pokemon Scarlet & Violet 151 Elite Trainer Boxes, Mini Tins and Zapdos Collection Boxes. If you're curious about some of the new shine things to reach our shelf, just check out the list below.
---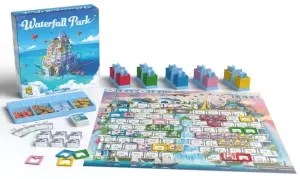 Waterfall Park is a beautiful reimplementation of the classic board game Chinatown. In this negotiation and trading game, players are tasked with bartering and negotiating property trades in order to establish theme park attractions on the island of Waterfall Park.
But beware, you're not alone and the deeds to plots and shops are randomly distributed among players. Everything is tradable, everything is up for grabs, with no restrictions.
It's up to you to design the most spectacular attractions to draw in the most visitors and maximize your earnings. Get ready to NEGOTIATE with your competitors!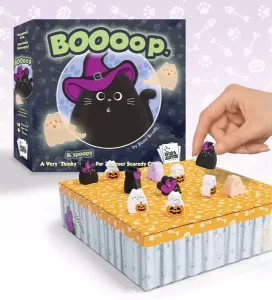 BOOoop. is a special SPOOPY (their words, not ours) variant set for the classic game of Boop., an adorable game of kitty rough-housing. In BOOoop, each kitten you add to the bed (represented by an quilted fabric board) Boops each other kitten away from it. Line up 3 kittens in a row to graduate them into cats… and then, get 3 cats in a row to win.
But that isn't easy with both you AND your opponent constantly "booping" kittens around. It's like… herding cats!
BOOoop adds an additional furry miscreant into the mix with Ghost Cat pawns that are so spoopy that cats flee in their presence, jumping over each other in their haste to escape.
The year is 1940. The German war machine has rolled through the continent in less than a year, crushing all before it. Britain is all that stands in the way of German victory in Europe.
As the war for Europe takes to the skies over Dover, the fledgling Royal Air Force stares down the German Luftwaffe in this two-player deck-building game of aerial WWII combat.
Undaunted: Battle of Britain is a standalone game in the Undaunted series, adapting the core gameplay of the previous games to recreate the dynamic dogfighting of aerial combat. Maintain cohesion between your pilots, evade anti-aircraft artillery, and leverage talented aces to win the battle for the skies!
We've spent 2+ years in various levels of hunkering down and it's time to get out on those tracks and see the world!
The new Travel by Trolley Expansion adds 200 new track and modifier cards split between innocent tracks, guilty tracks, and modifiers. Inspired by vacation destinations around the world and the petty frustrations we face every time we travel, Travel By Trolley adds new options and more wacky humor to the party game of moral dilemmas and trolley murder!
Travel by Trolley requires the Trial by Trolley core set.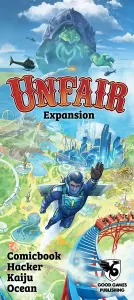 Unfair is a unique tableau-building theme park game about building the city's greatest theme park, whatever it takes. Where flair and pizzaz might not work, perhaps more underhanded ideas might work through. Watch out – your competitors may pay off the safety inspectors to close your rides or hire hooligans to vandalise your park! Build wisely and protect your park to make sure you come out on top!
This second Unfair CHKO expansion brings four new themes: Comicbook, Hacker, Kaiju and Ocean to the 10 theme packs already available in Unfair and the ABDW expansion.
Unfair CHKO expansion requires the Unfair board game core set.
---
New Board and Card Games:
BOOoop.
Travel by Trolley Expansion
Undaunted: Battle of Britain
Unfair CHKO Expansion
Waterfall Park
Board and Card Game Restocks:
Air, Land and Sea
Bristol 1350
Funfair
Eleven
Onitama
Parks and Expansions
Superfight
Terraforming Mars
Trial by Trolley
Unfair
New Trading Card Games:
Pokemon TCG Greninja and Kangaskhan ex Starter Deck
Pokemon Scarlet & Violet 151 Mini Tins
Pokemon Scarlet & Violet 151 Zapdos ex Collection