Hey PI-Fans,
You've probably seen this way too many times, but due diligence demands the announcement be made. Pallets of stuff have drifted in from across the ocean and have meandered their way onto the store shelves yet again.
This of course means filled shelves and stacks upon stacks of cool stuff so if you fancy a card game with a bit more depth you can pick up Happy Little Dinosaurs, Here to Slay or grab a copy of Citadels. A reload of our party games shelves with Exploding Kittens, Zombie Kittens, Really Loud Librarians, Poetry for Neanderthals and Hand to Hand Wombat provides a spread of cool stuff to keep the laughter going. On top of this, The Great Train Robbery expansion for BANG! The Card Game has trundled into the station.
If you want your classics, Catan, Ticket to Ride, Pandemic and Dixit all see core set reloads along with two player games like Splendor Duel, The Star Wars Deckbuilding and 7 Wonders Duel. Likewise, the word-game shelf sees it's range greatly expanded with A Little Wordy, Just One, Trapwords, Letter Jam, 13 Words and So Clover topped up while anyone looking for a punch up can likewise consider Tiny Epic Kingdoms, Memoir 44, Condottiere and Brazil Imperial to round out their collections.
---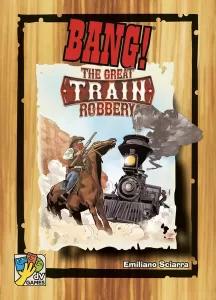 The train is coming to town and the Outlaws want to get their dirty hands on the precious cargo! But the Law will do everything it can to secure the convey until it reaches its destination. Will you loot the train with the crew, or defend it at all costs? All aboard!
The Great Train Robbery is a new expansion for BANG! base game, introducing exciting train mechanics for new effects, unexpected combos and 8 unmissable characters. The expansion focuses on a track of Railroad cards and a Locomotive card: Each Railroad card is coupled with a Station tile; every time the Sheriff's turn begins, the train moves and the value of the Railroad cards change depending on the Station tiles. Once during their turn, players may pay the cost shown on a Station to take the corresponding Wagon, gaining access to powerful in-game abilities dependent on which Car they hijacked.
The Great Train Robbery requires the original BANG! card game to play.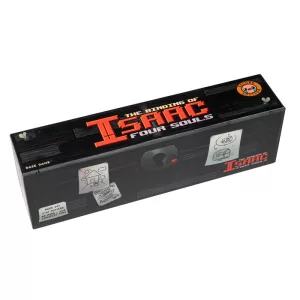 The Binding of Isaac: Four Souls is a tabletop card game about sacrifice, betrayal, and hoarding. Inspired by the massive hit video game The Binding of Isaac, the official card game was launched in 2018.
Experience the haunted and harrowing world of The Binding of Isaac: Four Souls yourself in this faithful adaptation. Collect treasure, gather loot, defeat monsters, and be the first to collect four souls. With over 300 cards in the game, there's a huge amount of replayability. Discover killer combos, enhance your abilities, betray your companions, and win!
This is the Second Edition of The Binding of Isaac: Four Souls. All cards have been updated with enhanced backgrounds and updated wording for clarity.
---
New Board and Card Game:
Bang! The Great Train Robbery Expansion
The Binding of Isaac Four Souls – 2nd Edition
Board and Card Game Restocks:
7 Wonders
7 Wonders Cities Expansion
7 Wonders Leaders Expansion
7 Wonders Architects
7 Wonders Duel
13 Words
A Little Wordy
A Bag of Chips
Azul – Master Chocolatier
Catan
Catan 5-6 Player Extension
Catan: Cities & Knights
Catan: Cities & Knights 5-6 Player Extension
Catan: Seafarers
Catan: Seafarers 5-6 Player Extension
Catan: Traders & Barbarians
Catan: Traders & Barbarians 5-6 Player Extension
Catan: Explorers & Pirates
Catan: Explorers & Pirates 5-6 Player Extension
Citadels
Dixit
Eldritch Horror
Exploding Kittens and Exploding Kittens NSFW
Exploding Kittens Party Pack
Exploding Minions
Jaipur
Just One
Mansions of Madness
Memoir '44
Pandemic
Poetry for Neanderthals
Really Loud Librarians
Red Flags
Saboteur and Saboteur 2 Expansion
So Clover!
Splendor and Expansion
Splendor Duel
Star Wars – The Deckbuilding Game
Ticket to Ride
Ticket to Ride Europe
Unl0ck! Game Adventures
Zombie Kittens