Hey PI-Fans,
Stack n' Stuff – A Patchwork Game is a reimplementation of the classic Patchwork, but streamlined for family gaming night.
In Stack n' Stuff, each player is attempting to load up a moving truck with oddly shaped furniture to best utilise the cargo space in their vehicle by cramming it with as much as possible while using time as efficiently as they can.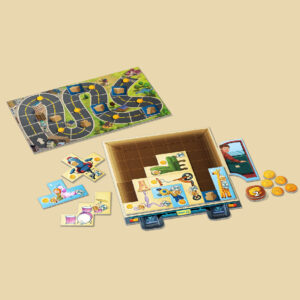 As befitting a Patchwork game, each item a player fits into their vehicle takes time to load, pushing a player's turn order token further along a time track, with the player who has used less time being the active player. As a result, it is very possible for a player to chain together a string of turns, allowing them to strategically catch up to an opponent which has grabbed an early lead.
With colorful and attractive art and simple to learn gameplay, as a retheme of Patchwork, Stack 'N Stuff is a game with surprising depth and plenty of replayability. This makes it an excellent game for couples and a wonderful intro title for little one learning the hobby.
Stack 'N Stuff – A Patchwork Game
2 Players, 30 Minutes Playing Time, Ages 8+