Hey PI-Fans,
Gamelyn Games has always been big on the concept of turning big-box board game concepts into teeny tiny games. They've done it before with Tiny Epic Kingdoms being their take on 4X games and Tiny Epic Zombies acting as a semi-cooperative zombie battler, but with Tiny Epic Dungeons, they've firmly set their sights on cooperative party Dungeon Crawlers.
Tiny Epic Dungeons is a fully cooperative dungeon crawler for 1 to 4 players which sees a team of heroes descending into a deadly dungeon to confront a boss. Along the way, players smash their way through goblins, traps and minions while the guttering torch slowly burns out in a race to find a defeat the dungeon boss in a randomly generated dungeon before the party is trapped in the dark.
If you feel the big box multi-hour crawls take way too long and want a neat pocket sized board game dungeon crawler to bash through, look no further than Tiny Epic Dungeons, now available at both Games @ PI and our webstore.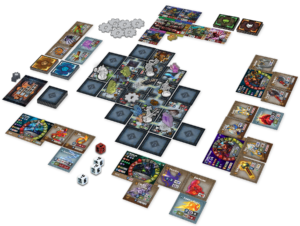 PICK UP YOUR COPY AT GAMES @ PI OR THE WEBSTORE TODAY!