Hey PI-Fans,
Sometimes, people do crazy things.
Meet Guy.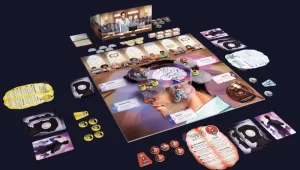 It's probably not his finest hour, given Guy's on trial for robbing a bank. At this point, his inner monologue's a bit scrambled and his personality fragments are fighting for control of his body in Voices In My Head, a comedic board game that has more than a few similarities to a certain animated film from 2015 (nudge nudge wink wink). Unfortunately, in this case, the personalities aren't particularly in unison over the outcome and being on trial, Guy has to deal with a Prosecutor trying to put him away as well.
In an absolutely wacky take on 'worker' placement, each personality attempts to take control of various mental functions of Guy, including his planning, observation, speech, instincts and motor skills, shoving control markers onto raised platforms and potentially physically displacing previously added tokens and sending them tumbling off. The dominant personality in turn, dictates Guy's response to challenges by the Prosecutor player, which may result in guilty or innocent verdict tokens being allocated to the jury board.
Each player has their own secret (and sometimes clashing) agendas which they must fulfil during the trial in order to win, and the Prosecutor must likewise seed the board to ensure that Personality players aligned with her get ahead. Ultimately at the end, there can be one or more winners, so the occasional alliance of convenience or throwing someone under the bus can ensure that their Personality wins. With space for up to six players, Voices In My Head is a wacky genre shift that provides a raucously funny take blending sabotage mechanics with hidden role gameplay and a hilarious comedy premise.
For 3-6 Players, 60-120 Minutes Playing Time, Ages 12+