Hey PI-Fans,
It's Christmas eve and we're still chugging away at things, so this announcement is going to be something of a quickie. For those of you that celebrate the season, Merry Christmas from the Games @ PI Team.
It's an adventuring themed week at Games @ PI just before Christmas with Delve, World of Warcraft: Wrath of the Lich King and Dune: House Secrets popping up on our shelves. The holiday promotions are still in full swing though some of the bundles look on the cusp of running out. If you were looking to take advantage of some of the special retail festive bundles or the festive rebates and discounts, act now to avoid disappointment.
– Kenneth, Games @ PI Manager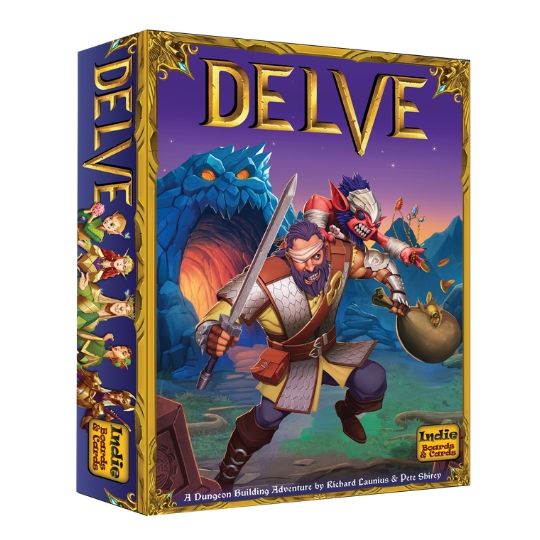 Brave Delvers from across the realm have journeyed to seek their fortune within the dungeons of Skull Cavern. Gold, treasures, and perilous encounters await behind every door! Grab your gear, sharpen your swords, and watch out for those kobolds!
In Delve, players guide their band of adventurers through the dungeons of Skull Cavern. Each turn place a dungeon tile and an adventurer, exploring the dangers below and searching for loot. When a room or corridor is completed, Delvers must fight for their share of the gold and treasure. But if a player manages to complete a room alone, they must overcome dangerous encounters before collecting their riches.
Delve combines tile-laying and an immersive narrative experience in a new and exciting way.
2-4 Players, 60 mins, Ages 14+
World of Warcraft: Wrath of the Lich King is a variant of Matt Leac0ck's classic Pandemic system which sees players journeying to the frozen continent of Northrend to face the armies of the Lich King.
Take control of a number of classic Warcraft heroes and go questing across Northrend battling the minions of the Lich King as flocks of Ghouls and Abominations stalk them across the frozen wastes. Here, the enemies are not mere markers scattered across a board, for they will often actively pursue player across the board to thwart their moves. Forts, temples, battlegrounds, and more populate the game board as you and your fellow heroes journey across the cold landscape. Along the way, you'll set up strongholds, complete quests, and do battle with legions of undead.
As you fight your way to the Lich King, all manner of dark magic and terrible creatures under his control need to be neutralized and players must complete Quests, a brand-new mechanism that can be completed as a team through a combination of dice rolls and the hero cards at your disposal. Complete these quests to move closer to the final assault on Icecrown Citadel, where the Lich King Arthas himself resides.
1-5 Players, 45-60 mins, Ages 14+
In Dune: House Secrets, players take on the roles of rebels who must solve a series of challenging missions with a finite amount of time and resources seeking to undermine the presence of Harkonnen rule on the desert planet Arakkis.
Featuring the co-operative game system used in Portal's award-winning Detective: A Modern Crime Board Game, Dune: House Secrets delivers a deeply thematic experience that drops one-to-four players in the middle of the highest stakes unfolding on the harsh desert planet of Arrakis.
In this story-driven adventure game, players take on the roles of rebels who must solve a series of challenging missions with a finite amount of time and resources. Players cooperatively make decisions on how to progress the story as they decide to explore different regions of the world, follow leads, leverage allies, and overcome opposition of all kinds. During gameplay, players use a variety of physical and digital game components — a deck of cards with essential clues and plot twists, a dozen physical handouts, and a dedicated website with additional resources — to steer the narrative in fun and surprising directions for a truly immersive experience.
You find yourself in the middle of the conflict between two Houses. Working collaboratively, players cooperatively make decisions on how to progress the story and your every decision will influence how the story unfolds. Wherever you go, whoever you befriend, or who will you pick as your enemy is entirely up to you. Where will this adventure take you
1-4 Players, 90-180 mins, Ages 14+