Hey PI-Fans,
It's time to get your game on, folks. Here's a slab of three big box games that have floated back onto the Games @ PI store.
If you're looking for the special big box Catan 3D Edition, that transforms Catan into an amazing visual experience fit for any coffee table while the 15th Anniversary Edition of Ticket to Ride Europe provides a host of pretty new collectors edition trains and update components. If you're after something less Eurogame though, Descent: Legends of the Dark is an all new standalone massive big box loaded with miniatures, terrain tiles and dice that let's you go dungeon crawling in an amazing app-driven experience that let's you and a party of friends go monster bashing without a game-master.
All titles are available at Games @ PI and will be available for webstore order soon, though if you want them urgently, you can give us a call and we'll work something out.
Quantities are limited for some of these titles, so act fast.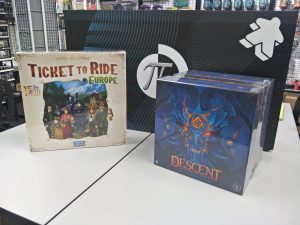 New Board and Card Game Releases
Catan 3D Edition
Descent: Legends of the Dark
Ticket to Ride: Europe – 15th Anniversary Edition
Board and Card Game Restocks
7 Wonders Duel and Expansions
Catan and Catan 5-6 Player Expansion
Citadels
Codenames range restock
Dead of Winter
Dobble
Ticket to Ride
Ticket to Rider Europe
Ticket to Ride Asia Map Expansion
Jaipur
Limpeh Says
Pandemic Legacy 0, 1 and 2
Ramen Fury
Rockstar Portfolio Manager
Sherlock Holmes Consulting Detective range restock
Space Parks
Splendor
Sushi Go
The Singaporean Dream: The New Normal
Ubongo and Ubongo Travel
UNLOCK! range restock