Hey PI-Fans,
It's another week, so we'd like to mention that the expansion for Parks, Nightfall is available in both the store and webstore. On top of that, we've got stocks of Pitchstorm, a new card game of great horrible movie pitches. This comes with the usual restock wave for titles like Ticket to Ride, Catan, Pandemic, Trial by Trolley and other staples, so if you're looking for something to spend time with some friends, there's always the classics.
All of these titles are now available at Games @ PI and the Games @ PI webstore, so come check them out.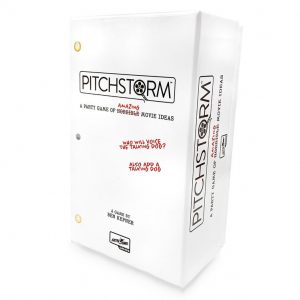 Pitchstorm is a party game that puts you in the position of an unprepared writer pitching movies to the world's worst executives. (AKA, your friends.)
Each round, one player acts as the executive, while everyone else plays as a writer trying to pitch them the next Hollywood Blockbuster. Each player gets a semi-random movie, and has less than a minute to pitch their idea to the executive.
But here's the twist: During each pitch the executive has a hand of note cards that they can use to mess with the writers. These are typically terrible ideas along the lines of "Can we add at least one dinosaur?", or "What if the main character was a robot… but didn't know they were a robot!"
After the everyone has pitched a movie, the executive chooses which one they want to make, and that player gets a point! Play continues until one of you is rich and famous.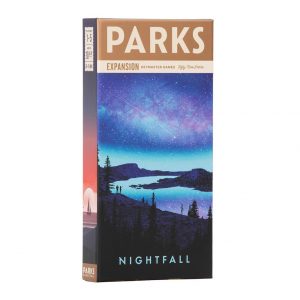 The national parks exist to preserve many wonders of nature, but they also harbor some of the darkest skies and clearest views of the stars. This is the reason you might hear the saying "Half the Park is after Dark." It is the inspiration for PARKS: Nightfall expansion.
Featuring more art from the Fifty-Nine Parks Print Series, Nightfall offers a whole new year of hiking for PARKS lovers to explore. It includes 24 new Park cards that reward instant actions when visited, a new Year deck along with ways to obtain new Year Cards while hiking, plus the introduction of Camping, which grants powerful once per season actions to those hikers that do not dally on the trail.
Welcome to PARKS Expansion: Nightfall. In Nightfall, you'll find new Park Cards featuring new rewards and all new artwork from the Fifty-Nine Parks Print Series, including the 17 parks not represented in the base game. This expansion also includes new Year Cards and Bonus Scoring opportunities, and you'll get to experience the trail in a brand new way with the new Camping mechanic.