Hey PI-Fans,

Are you looking for a mystery experience? Covering many many different scenarios, from haunted theme parks to steamboat heists and treasure expeditions, the EXIT series brings the escape room experience home with you in a small box form.
In the various Exit: The Game boxes, players must use their team spirit, creativity, and powers of deduction to crack codes, solve puzzles, collect objects, and earn their freedom bit by bit.
Take a set home and go on an escape room puzzle solving journey.
And, as a little extra kicker, we've got a special promotion to get you started on your little trip to a different reality.
BUY ANY THREE EXIT BOXES AT $65*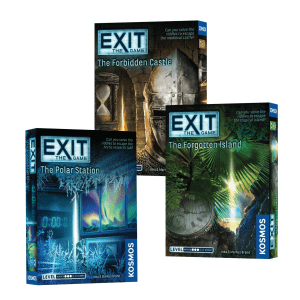 IF YOU CAN'T GET ENOUGH EXIT, BRING YOUR RECEIPT BACK WITH THE GAME BOX AND
GET AN ADDITIONAL 10% OFF YOUE NEXT EXIT: THE GAME PURCHASE**
* Retail Promotional Bundle Offer applicable to normal EXIT Sets.
** Additional 10% applies to Two-Part Adventures as well as normal EXIT Sets.