Hey PI-Fans,
I would never be able to forgive myself if I didn't reference Tim Currey escaping to the one place uncorrupted by capitalism at least once. Now that I've gotten it out my system, here's Space Park.
---
From the designer of PARKS comes Space Park, an exploration themed board game about roaming the galaxy on rocket ships, exploring exotic destinations, collecting crystal, and earning badges so you can brag to all your friends that you are the greatest explorer in the galaxy.
Featuring a modular board on which destinations are randomly arranged, Space Park will see players strategically advancing rockets around the ring of destinations to take advantage of various location effects. These can range from gathering the three different types of exotic crystals necessary for research to collecting tokens which will allow them to better manipulate the board and ride off the actions of other players. With the rockets moving to different locations each turn (and thus changing the choice of actions open to players), players will need to focus on planning ahead and adapting their strategy on the fly to prove yourself as the galaxy's next great space explorer!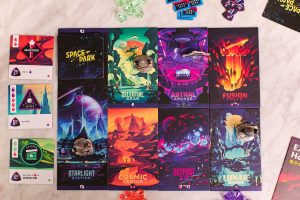 Featuring the detailed and mysteriously moody art of Brian Edward Miller and a classic 80's retro space look, Space Parks is an amazingly fast game that see's players race across the cosmos in a race to amass twenty points. Though long term planning helps, the game also features a deliciously passive aggressive mechanic where players have some control of the options available to the player downstream. Plus it's fast too, with a neat little 30-minute playtime designed to ensure it never overstays it's welcome.
---
Want a fast and furious game of space exploration that's simultaneously strategic and easy to teach? Look no further.
You can grab yourself a copy of Space Parks from Games @ PI or click the link below to grab a copy through our webstore.