Hey PI-Fans!
We just received 3 New Releases yesterday evening: 'Chope!', 'Mooncake Master' and 'Remember Our Trip'
All designed by local Singaporean, Daryl Chow! Support local!
Chope!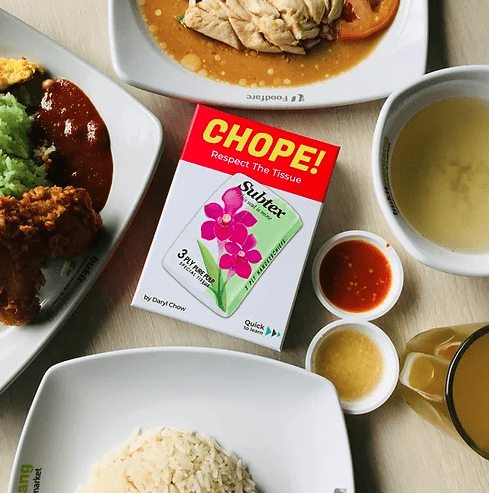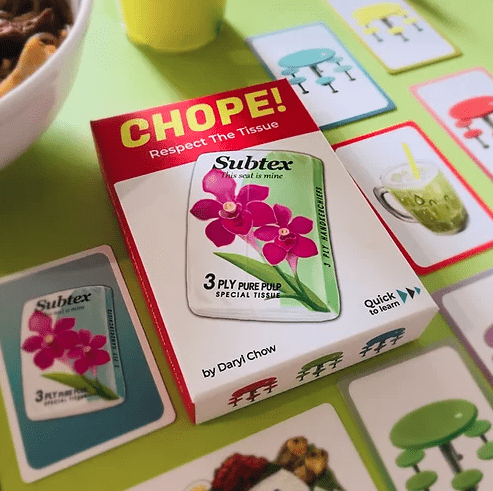 In Singapore, everyone knows the 'Laws of Chope', basically 'hawker table reservation etiquette.' If you see a packet of tissue placed on a hawker table seat, it means its reserved. As every Singaporean knows, reserving hawker table seats is a game of 'faster choper first': you don't slap that tissue packet down, you don't get that hawker seat.
In 'Chope!', players are hungry folks trying to get their favourite hawker delights and find a table. On your turn, flip open as many cards from the centre hawker deck to see how much food cards you can get. There's Chicken Rice, Nasi Briyani, Nasi Lemak, Laksa to name a few. If you encounter 2 of the same food cards, you bust! You'll be forced to pick that one dish and discard all the others! Meanwhile, if other players see table cards while you're flipping open cards, they slap down a tissue pack card on the table card and yell 'CHOPE!' to snag a table! There are also Mynah birds that pop up in the deck and players have to play 'SIAM!' cards and yell SIAM! to scare the birds away! Player who scores the most food cards and choped tables when the deck runs out, wins!
A fast-paced family game full of local Singaporean delight that's great with everyone from kids to seniors!
For 3-6 Players, 20 Minutes Playing Time, Age 6+
Mooncake Master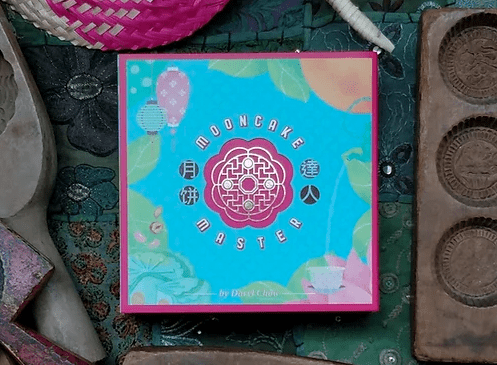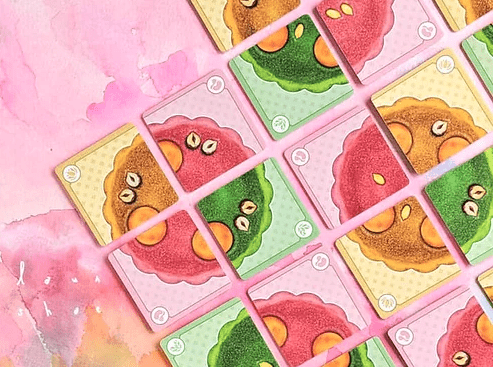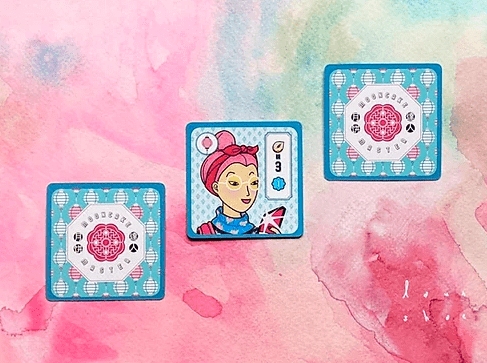 The Chinese Mid-Autumn Festival takes place around mid-September to early October every year. And the best part: the mooncakes! You and your friends are mooncake apprentices with the aim to craft the tastiest mooncakes and cater to fussy customers.
Players each select mooncake tile cards by choosing 1 of 3 tiles and passing 1 to the left and 1 to the right. When everyone's done selecting, they reveal their tiles and try to make mooncakes with other players by fitting their cards into 4 squares. 4 squares make a complete mooncake. There's lotus seed paste, red bean paste, green tea paste, salted egg yolk to name a few. After everyone has made 3 complete mooncakes, they're scored by taste. If you made good combinations, that mooncake gets higher taste points! eg. 1 flavour mooncakes, 1 complete salted egg yolk. But it's not just about making tasty mooncakes, there are customers to fulfill! Gain additional points by fulfilling customers' demands. Player with the most customers fulfilled wins!
A delightful game to play with friends and family over tea and samplings of mooncakes!
For 1-6 Players, 30 Minutes Playing Time, Age 10+
Remember Our Trip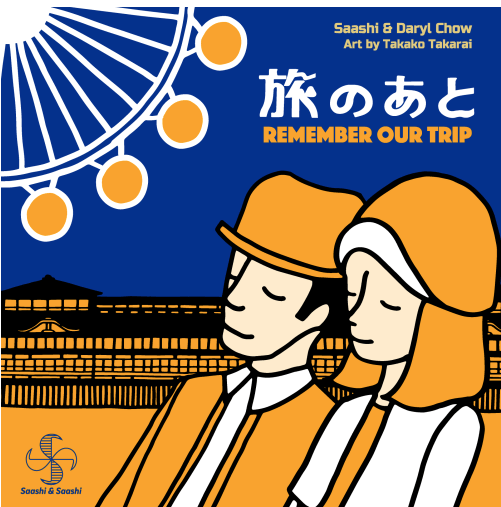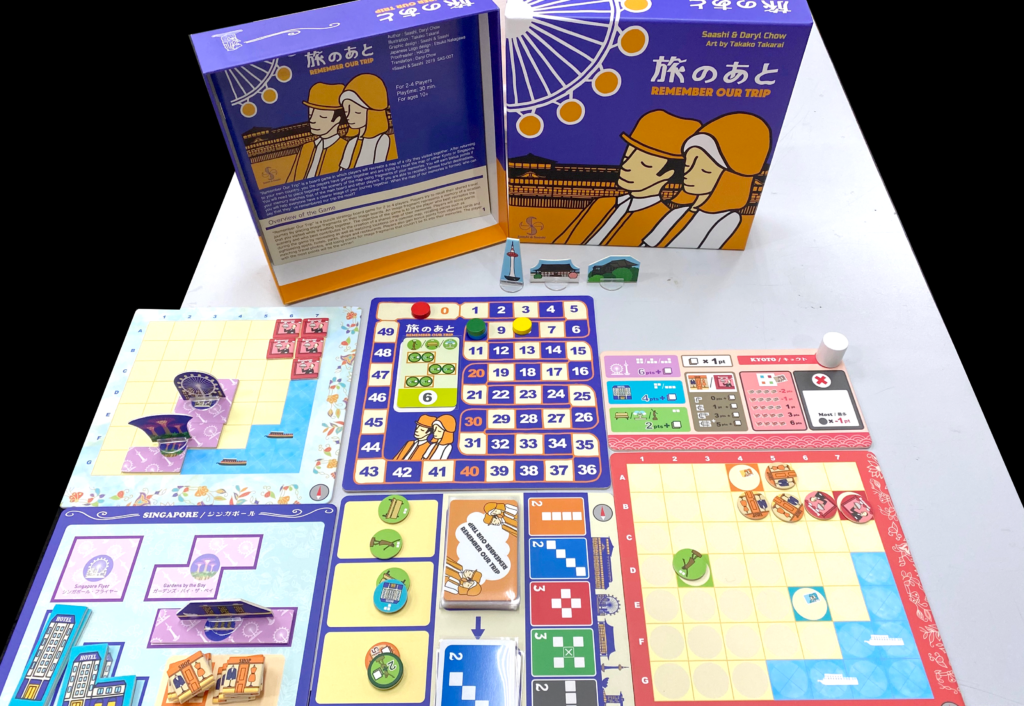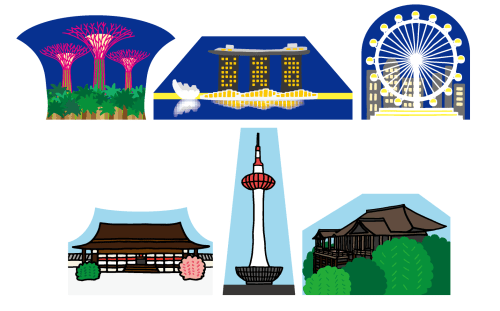 Because of Covid-19, we all can't travel, but we can still reminisce about travelling and recall all the wonderful places we've been on our holidays.
In 'Remember Our Trip', players are travelers who went on a shared journey together but have now returned to their respective countries. They now aim to create the map of Singapore or Kyoto from their shared memories.
At the start of the round, you draw a memory card and collect the corresponding number of landmark tokens. When everyone's got their cards and tokens, everyone places their tokens on a grid board based on the shape formation on the memory card. If you've filled in the correct number of tokens, in the correct formation on the map, you score a landmark! The player who is best able to recreate the scenery and contribute to the creation of the map, wins.
The Singapore map features iconic landmarks like Marina Bay Sands, the Super Trees and the Singapore Flyer. The board even has little Singapore River Bumboats! On the reverse side is the Kyoto map which has the Kyoto Imperial Palace, Kyoto Tower and the Kiyomizu-dera Temple as landmarks.
A beautiful collaborative project by Singaporean designer Daryl Chow and Japanese designer Saashi!
For 2-4 Players, 30 Minutes Playing Time, Age 10+
We've got heaps more games at the store! Stay tuned to our Website, Facebook and Instagram for more news and PI-happenings! Never miss an update! Subscribe to our Telegram Channel!