"In 54 years, why don't we send them this— a picture of this beautiful Earth, with an Eurasia overflowing with green?"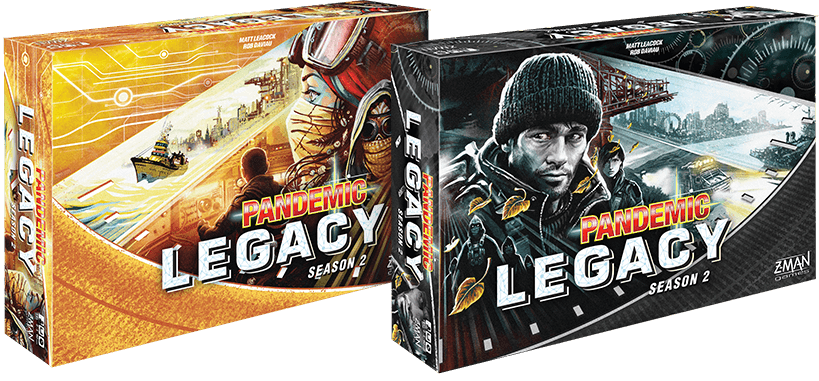 Dear PI-Fans,
THIS ANNOUNCEMENT MAY CONTAIN SPOILERS FOR PANDEMIC LEGACY SEASON 1. WHILE YOU DON'T NEED TO HAVE COMPLETED SEASON 1 TO PLAY SEASON 2 IF YOU HAVE NOT PLAYED PANDEMIC LEGACY SEASON 1, I SUGGEST GRABBING A COPY ANYWAY BECAUSE IT'S AWESOME. 
Seventy One years after the catastrophic events of the global plague, we face a devastated globe on the brink of collapse. Much of the globe has gone dark, and while small groups of survivors struggle to keep the world alive, but their efforts are no longer enough. The world needs leaders to rise up and find the way back from the brink of extinction. That task has fallen to you. You must find a way or nobody will. You are humanity's last chance.
Tomorrow, a small group of us head out into what's left of the world. We don't know what we'll find.
Pandemic Legacy: Season 2 is an epic cooperative game for 2 to 4 players. Unlike most other games, this one is working against you. What's more, being a Legacy game, the actions you take in Pandemic Legacy will carry over to future games, shaping the board, cards and setups of future games with no two worlds will ever be alike!
This is your game. This is your story.

Pandemic Legacy: Season 2
26/10/17