Hey PI-Fans,
With shipping back snarls during the CNY period, everything is dropping right into our lap willy-nilly and we're working on refilling the Games @ PI store. Starting off the list, Unlock – Game Adventures, an escape room card game based on the settings of the popular board games Pandemic, Mysterium and Ticket to Ride is now back on the shelf at both the retail and web outlet.
In the meantime, restocks of the classic titles have commenced as shipments from the manufacturers and you'll see a range refresh for major product ranges like Catan, Ticket to Ride, Mysterium, and 7 Wonders. Keep scrolling for a list of reloads.
---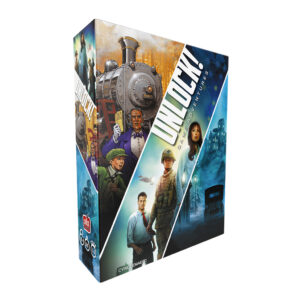 AN ESCAPE ROOM GAME INSPIRED BY BOARD GAMES.
Unlock! Game Adventures includes three separate scenarios for you to explore, each set in a different well-known board games universe:
Mysterium: Enter the manor and experience a dark and surreal investigation in which you must resolve the murder with the Ghost's vision cards in a dreamlike and esoteric journey filled with mysteries…
Ticket to Ride: Take a train trip across the U.S. in which you must thwart the scheme planned by the Rail Barons.
Pandemic: An epidemic threatens humankind! Everyone's future depends on you and your team of medical experts (virologist, medic, dispatcher…) as you face a global health crisis.
Unlock! is a cooperative card game inspired by escape rooms that uses a simple system which allows you to search scenes, combine objects, and solve riddles. Play Unlock! to embark on great adventures, while seated at a table using only cards and a companion app that can provide clues, check codes, monitor time remaining, etc.
---
Board and Card Game New Releases:
Unlock – Game Adventures
Board and Card Game Restocks
7 Wonders
7 Wonders Cities Expansion
7 Wonders Leaders Expansion
A Little Wordy
A Bag of Chips
Burger ASAP
Condottiere
Dobble (Spot It)
Exploding Kittens
Hand to Hand Wombat
Happy Little Dinosaurs
Jaipur
Jungle Speed
Just One
Pandemic
Pandemic Hot Zone – North America
Pandemic Hot Zone – Europe
Ramen Fury
Splendor
Splendor – Cities of Splendor Expansion
Throw Throw Avocado
Ticket to Ride
Ticket to Ride Europe
Ticket to Ride – New York
Ticket to Ride – London
The Werewolves of Miller's Hollow
Unstable Unicorns
Zombie Kittens