Hey PI-Fans,
Strange how shipping works in this day and age. You plan out arrival schedules and this absolutely wonky combination of things just drops out of the ether together despite being staggered orders. After being lost in the warp and having basically gone around the world, our shipment of Empire Alone sourcebooks for BattleTech has finally been delivered after delays. Also somehow arriving together is another batch of ConcernedApe's Stardew Valley board game, a cooperative board game set in the same setting of the bestselling indie farming life-sim. The first time we had it in, it basically just entirely disappeared, so we recommend grabbing your copy ASAP.
Otherwise, there's plenty of restocks of classic titles like Sushi Go Party that people have been clamoring about.
Here's to a great weekend, folks.
– Kenneth
---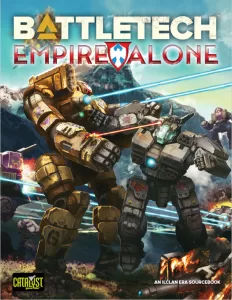 From the new ilKhan on Terra comes word to the Wolf Empire of their Clan's victory. With no further communication from Alaric Ward, Star Colonel Othar takes the reins of the Empire, attempting to weather the assaults of his neighbors, and ensure the ilKhan's realm remains inviolate. Hungrily eyeing their worlds lost to the Empire, now stripped of the Wolves' best, factions within the Free Worlds League launch offensives across the border and risk carrying Nikol Marik into a war she may not be ready for. At her back, the Spirit Cats and Clan Sea Fox lair in their Clan Protectorate, eager to pursue their own ends.
And out among the stars, the Wolf's Dragoons and their new commander are on the hunt…
Empire Alone is a BattleTech sourcebook providing full details of the events around the Wolf Empire and Free Worlds League from 3151 to mid-3152. Included are a full historical summary of events in those regions of space, personality and unit profiles of key players—many appearing here for the first time, and game information to bring it all to your BattleTech tabletop.
---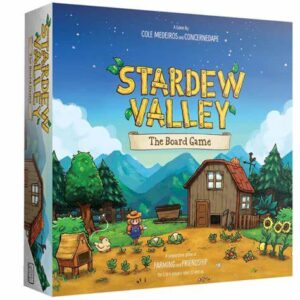 Stardew Valley is a cooperative board game of farming and friendship based on the Stardew Valley video game by Eric Barone.
Work together with your fellow farmers to save the Valley from the nefarious Joja Corporation! To do this, you'll need to farm, fish, friend and find all kinds of different resources to fulfill Grandpa's Goals and restore the Community Center. Collect all kinds of items, raise animals, and explore the Mine. Gain powerful upgrades and skills, and as the seasons pass, do your best to protect the magic of Stardew Valley!
For 1 to 4 players
Ages 13+
About 45 minutes per player
---

Board and Card Game Restocks
7 Wonders Architects
7 Wonders Duel
7 Wonders Duel Agora Expansion
7 Wonders Duel Pantheon Expansion
Abandon All Artichokes
Bang! The Dice Game
Catan
Catan 5-6 Player Extension
Catan Seafarers
Catan Seafarers 5-6 Player Extension
Catan Cities & Knights
Catan Cities & Knights 5-6 Player Extension
Go Nuts For Donuts
Power Grid Recharge
Salem 1692
Shifting Stones
Stardew Valley
Super Mega Lucky Box
Sushi Go
Sushi Go Party
Sushi Roll
New Miniature Wargame Releases
BattleTech: Empire Alone Sourcebook
Miniature Wargame Restocks
BattleTech: Beginner Box
BattleTech: A Game of Armored Combat
BattleTech: Clan Invasion Box Set
BattleTech: Inner Sphere Heavy Lance
BattleTech: Inner Sphere Heavy Battle Lance
BattleTech: Inner Sphere Fire Lance
BattleTech: Inner Sphere Support Lance
BattleTech: Inner Sphere Urban Lance
BattleTech: Comstar Command Level II
BattleTech Legends
Role Playing Game Restocks
Goblin Slayer Tabletop RPG
KonoSuba: God's Blessing on this Wonderful World! TRPG