Hey PI-Fans,
It's taken a long, meandering road, but 7 Wonders: Architects, a new addition to the 7 Wonders family of games has hit our shelves. Comfortably slotting itself in between the two-player head to head gameplay of 7 Wonders Duel and the full complexity of a game of regular 7 Wonders sits Architects, making it an excellent introductory title for new players getting into the hobby.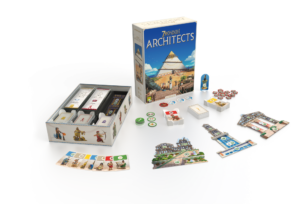 This streamlined approach makes it far more approachable especially for people starting out who might find themselves overwhelmed with the scope and complexity of the mainline title.
7 Wonders Architects borrows many of the resource management and draft aspects from 7 Wonders but makes a conscious effort to avoid overloading players with choices. Each turn, a player may draft resources from one of three cards presented to them which they will spend to score points, construct wonders and potentially wage war.
Then again, if a picture is worth a thousand words, why not let Repos explain their own game!