Greetings, Legion Commanders!
The Galaxy is split asunder! Horus has openly taken up arms against the Emperor! The shattered Legions laid low by the Warmaster's treachery! All over the galaxy, ancient grudges and discontent have broken out into open rebellion to the Emperor's rule.
The clouds of war hang overhead, armies muster in every corner of the galaxy. Take up arms and defend the Emperor's dream of a galaxy united, or side with the Warmaster and set fire to the galaxy!
Horus Heresy 2.0 is out in a big way, and we're here to support it best we can!
Horus Heresy Bingo!
Games@PI has prepared a number of exciting events to make your Heresy all the more exciting! Introducing Horus Heresy Bingo!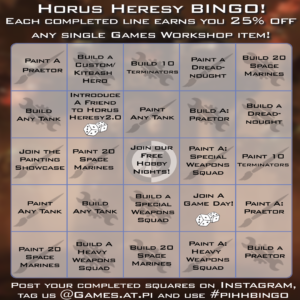 The rules are simple, complete all the squares in a horizontal row, vertical row, or diagonal row (5 squares), and you'd have earned yourself 25% off any single GW item! Complete the entire Horus Heresy Bingo card and get that sweet sweet 25% off for up to 12 items!
How do I complete the squares, you ask? Complete the activity on the square, take a picture of your built/painted/kitbashed model, and post it on Instagram, tagging us at @games.at.pi , and using the hashtag #pihhbingo. And the next time you are in store, show any of the staff, and they will stamp out that square! Not on instagram? No problem! Come on down and show the staff pics of your completed models, and your card will also be stamped! Now, how do I get myself one of them Horus Heresy Bingo cards? you might be asking? Swing by the store at your leisure and simply request one from the counter! Heresy on!
Hobby Nights!
Come on down and chill with like-minded individuals, and delve into heresy together! Paint, build, and prep reinforcements for your legions. War is here, and there is no time to lose! Every Tuesday and Thursday are Hobby Nights! from 6pm – 9pm, the tables are open for free to any and all players of Horus Heresy!
Reserve your slots Here!
Game Days!
Are your armies ready for the anvil of war? Every Saturday from 12noon – 6pm, take part in epic battles of Horus Heresy 2.0 with our shiny new terrain! Heresy cares not for where you are, it will find you and engage you in glorious battle! Fight to topple the corrupt Emperor, or fight to crush Horus' treacherous fiends!
Reserve your slots Here!
Hesitant for Heresy?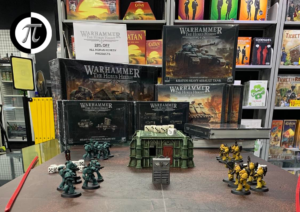 Fret not, come on down and try it yourself! Our demo table is waiting, for the brave few who dare descend into Heresy!
It's Heresy@PI
Enjoy up to 20% off all things HERESY! *and all Games Workshop items
Call our friendly staff to find out more at 67343858, or visit us at #03-01 Midpoint Orchard!
Like us on Facebook @GamesAtPi Follow us on Instagram at @games.at.pi!