Hey PI-Fans,
We're back today with another eclectic mix of titles, this time; Onitama: Light and Shadow, a double-blind expansion for the elegant two-player game Onitama, a whole new edition of Galaxy Trucker… and the english edition of KonoSuba: God's Blessing On This Wonderful World TRPG.
No, we're not joking about the last one.
Yes, it's one of the odder items we've looked into.
No, it's not a joke item – they legit wrote a full working Pen-and-Paper Tabletop RPG for Konosuba.
Yes, Aqua is still useless goddess.
– Kenneth, Games @ PI Manager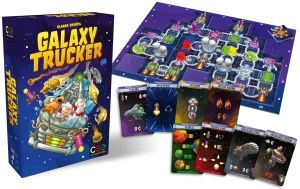 In the fast and goofy family game Galaxy Trucker, players begin by simultaneously rummaging through the common warehouse, frantically trying to grab the most useful component tiles to build their spaceship — all in real-time.
Once the ships are launched, players encounter dangerous situations while vying for financial opportunities, each hoping to gain the most valuable cargo and finish with as much of their ship still intact as possible. Of course, that's easier said than done since many hazards will send pieces of your ship, your cargo, and your crew hurling into the depths of space.
The goal is to survive the trek — hopefully with at least some of your crew and ship intact — and have at least one credit by the end of the game. (Profit, yay!) Players earn credits by delivering goods, defeating pirates, having the best-looking ship, and reaching their destination before the others.
2–4 Players, 20–30 Min, Ages 8+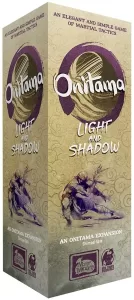 The third expansion for Onitama, an elegant two player duel, the Light and Shadow shakes up the typical gameplay of classic Onitama with the addition of the Ninja pawn. These stealthy assassins radically alter the way Onitama plays, forcing one or both players to contend with the hidden information as they escort their Master across the board as unlike other pawns, the Ninja moves secretly, hidden from your opponent's view until they are ready to strike. The Light and Shadow game can be played in two ways, a Way of the Shadow duel where each player deploys a Ninja pawn or a Way of the Light asymmetric duel that pits a pair of hidden Ninjas against a traditional Onitama Master and Students setup.
The KonoSuba: God's Blessing on this Wonderful World! TRPG is a tabletop RPG set in the wacky JRPG-esque Isekai setting of Natsume Akatsuki's Konosuba. Players create characters and form an adventuring party to tell stories together: completing quests, slaying monsters, and getting into hijinks much like in the series. This book contains everything players and game masters need for questing like Kazuma and his merry gang of misfits. Fancy playing as a Crimson Magic Clan Wizard? Sure, why not? What about a Priest devoted to the Axis sect? Weird flex, but you can. Konosuba: God's Blessing on this Wonderful World! TRPG is adapted by F.E.A.R. from the original story by Natsume Akatsuki with original Illustrations by Kurone Mishima and runs on a D6 dice pool system.
4-6 Players, 2-6 Hours (Including GM Prep)