Hey PI-Fans,
Never a dull day in this office. As usual Kenneth's Law of Shipment Attraction strikes, dropping both the stack of new stuff and the restock shipments right on our doorstep at the same time.
Running and screaming ensues.
But enough about that. You came for the games. You won't be disappointed.
We're off to Westeros again with the arrival of Lions of Casterly Rock for the Game of Thrones LCG and the all new board game The Iron Throne. The cyberpunk inclined will also be able to grab a launch day copy (03/11/16) of  Netrunner: Intervention for their decks. In addition, we've also got the 7 Wonders Duels: Pantheon expansion for 7 Wonders Duels as well the all new Ticket to Ride: Rails and Sails edition of the classic train game.
Restocks means  Mr. Meeseeks Box 'o Fun is back on our shelves along with Mansions of Madness 2E and it's expansions. Catan of all flavors are back including the sought after Explorers and Pirates set and gem merchants will be pleased to note a restock of Splendor as well. We've also managed to secure a tiny quantity of Fury of Dracula, Forbidden Stars, Warhammer Quest: The Adventure Card Game and Death Angel and when they're gone… they're likely gone for good, so act fast.
On top of that, I would be remiss in not mentioning the launch of Pokemon Evolutions for the Pokemon Trading Card Game – an all new set with updated version of the original Core Set, Jungle and Fossil card art.
Plenty of gaming ready for the weekend, methinks.
– Kenneth, Games @ PI Manager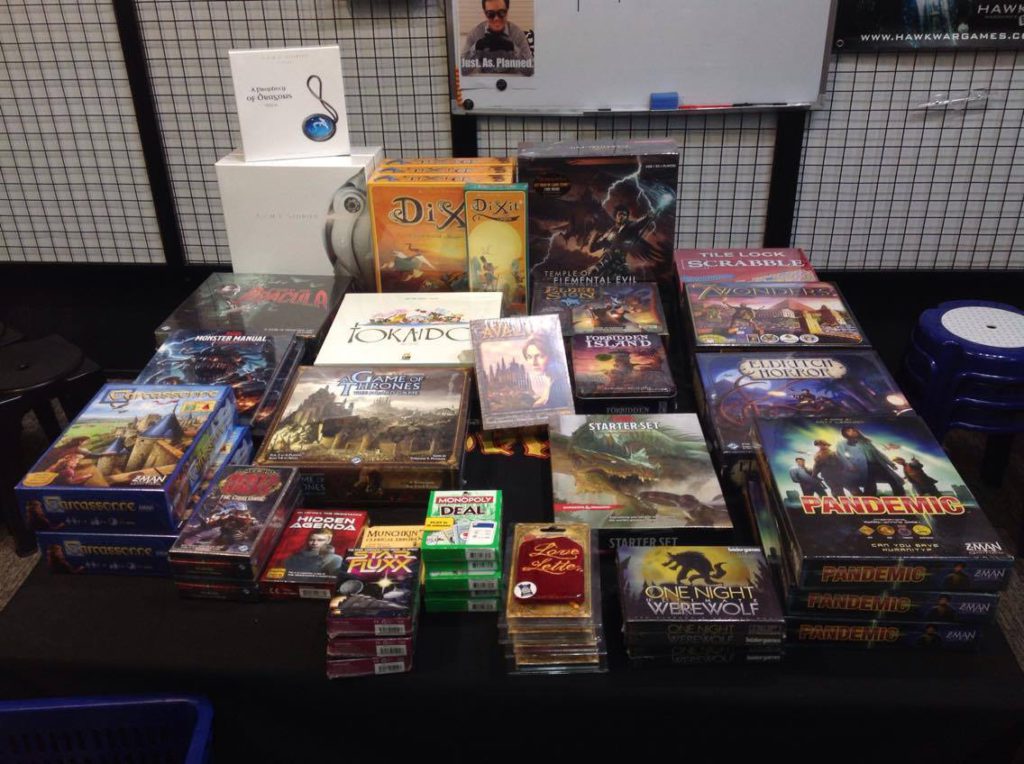 ______________________________________________
New Board and Card Game Releases
7 Wonders Duels: Pantheon Expansion
A Game of Thrones: Lions of Casterly Rock LCG Expansion
A Game of Thrones: The Iron Throne Board Game
Android Netrunner: Intervention Data Pack
Pokemon Evolution Starters and Boosters
Ticket to Ride: Trails and Sails
Board and Card Game Restocks
A Game of Thrones: The Board Game
Carcassonne
Catan and Expansions
Descent: Journeys in the Dark
Dead of Winter: The Long Night
Dixit and Expansions
Forbidden Island
Fury of Dracula
Love Letter
Mansions of Madness
Mansions of Madness: Recurring Nightmares
Mansions of Madness: Suppressed Memories
Monopoly Deal
Mr. Meeseeks Box 'o Fun
Pandemic and Expansions
Pandemic Legacy
TIME Stories
The Resistance
The Resistance: Avalon
Space Hulk: Death Angel
Splendor
Tokaido
Warhammer 40,000: Forbidden Stars
Warhammer Quest: The Adventure Card Game
Role Playing Game Restocks
Dungeons & Dragons: Introductory Box
Dungeons & Dragons: Dungeon Masters Guide
Dungeons & Dragons: DM Screen
Dungeons & Dragons: Monster Manual
Dungeons & Dragons: Players Handbook
Pathfinder Role Playing Game Core Rulebook (Pocket Edition)