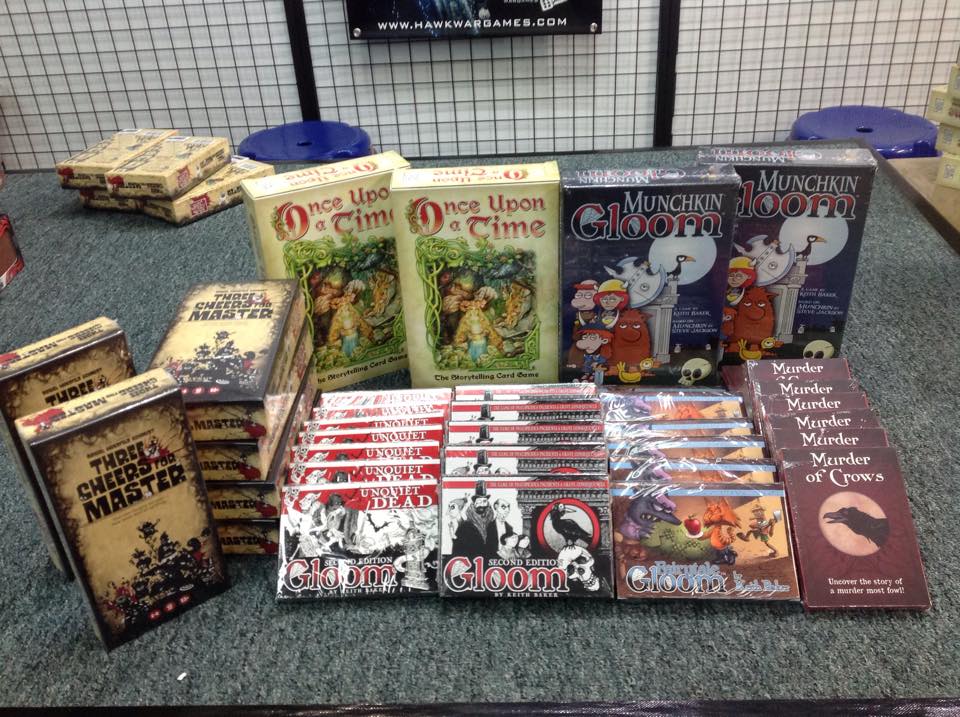 Hey PI-Fans,
Looking for something to kick off the week with a smile?
Try Three Cheers For Master, a new card game where minions, in a frantic attempt to cheer up their disgruntled boss, have decided the stack themselves up in acrobatic displays. Unfortunately, dungeon denizens don't stack very well, occasionally leading to the odd fatality and collapsed tower.
Carrying on the theme of a bleak monday is more Gloom than you can shake a stick at, including the brand new Fairytale Gloom and Munchkin Gloom core sets and the Unquiet Dead expansion. We've also gotten Unwelcome Guests, Unfortunate Expeditions and Unhappy Homes back in as well, so if you're looking to round out your unhappy families, the time is now.
Rounding out the rather dark theme of today's releases is Murder of Crows, a fast paced little game of murder most fowl, as players battle each other to drop their hand spelling out the events of a murder, while ensuring that their rivals don't get a chance to do the same.
The black humor is thick with Monday's releases folks.
Here's to a good week.
– Kenneth, Games @ PI Manager
______________________________________________________________
New Board Game Releases
Fairy Tale Gloom
Gloom – Unquiet Dead Expansion
Munchkin Gloom
Murder of Crows
Three Cheers For Master
Board Game Restocks
7 Wonders
Coup
Coup Reformation Expansion
Dead Man's Draw
Descent – Journeys In The Dark 2nd Edition Core Set
Gloom
Gloom – Unfortunate Expeditions Expansion
Gloom – Unhappy Homes Expansion
Gloom – Unwelcome Guest Expansion
Once Upon A Time
Once Upon A Time – Enchanting Tales Expansion
Once Upon A Time – Knightly Tales Expansion
Once Upon A Time – Seafaring Tales Expansion
Tsuro, Game of the Path
Tsuro of the Seas