Greetings, Legion Commanders!
The long awaited Horus Heresy 2.0 drops tomorrow, and are we excited!
With new shinies on the table, we figured it wouldn't hurt to give a little extra motivation to get them up and running asap, and to that end, we have prepared a little special something something.
Behold! Horus Heresy Bingo!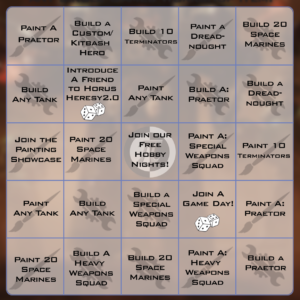 How to win?
The requirements are simple, for each line of the Horus Heresy Bingo grid you complete, get 25% off any single Games Workshop item!
To claim each completed square; A picture must be taken of your built/painted/completed model. It should then be posted on Instagram, tagging us at @games.at.pi, and using the hashtag #pihhbingo. Proceed to show it to store staff at your convenience, and your card will be stamped with the appropriate box completed! Not on instagram? Fret not, showing pictures of your completed models to staff, will also earn you those stamps!
Win up to 12, 25% off vouchers!
Terms & Conditions:
Promotion period: till end 2022.
Each Bingo card can be completed in 12 permutations.
The 25% off promo for each line completed cannot be stacked with any other promotion, and cannot be combined.
The validity of pictures for redemption of completed squares is at staff discretion.
Bingo cards are available to all who request them in-store.
Call our friendly staff to find out more at 6734 3858, or visit us at #03-01 Midpoint Orchard!
Like us on Facebook at Games at PI and follow us on Instagram @games.at.pi