Hey PI-Fans,
Mondays are typically when we walk the shelves, restock the shelves from weekend sales, and roll out the new.
First up, we've restocked the RPG Miniatures wall with another massive restock wave of WizKids miniatures. If you've been poking around and looking for the perfect mini to represent a Player Character or Monster, feel free to peruse the wall. Perhaps, you'll even find inspiration with the Critical Role characters that have been added to the range.
Of course, we like board games too, so when we restocked the Unstable Unicorns card game, there's a neat little addition to our range in Wrong Party, a quirky draft-style card game where players compete to create the Greatest Guest List of All Time from a disparate mishmash of party-members.
Miniature gamers are not forgotten with a range restock of the BattleTech range. With both Total Warfare and the BattleTech Manual core rule books back on the shelf, it's a great time to leap back into the action, with restocks of Map Sheets and Lance and Star Packs as well. The eagle eyed amongst you will also notice copies of Tamar Rising, the latest conflict to erupt in the Inner Sphere as the Lyran Commonwealth grapples with Clan Hell's Horses and the remnants of Clan Jade Falcon for the former worlds of the Falcon Occupation Zone. Of course, the more history minded can head off to Tukayyid again with restocks of the sourcebook, or plumb the end of the Dark Age era with the IlClan sourcebook as well.
Role players can dust off their Ink Spots records as we head back into the irradiated deserts of the American Mid-West in Fallout: The Role Playing Game. Feeling SPECIAL? Load your Fat Man Launcher, lay down some Bottlecap Mines, quaff some Nuka Cola and head off into the Wastelands again, this time with friends.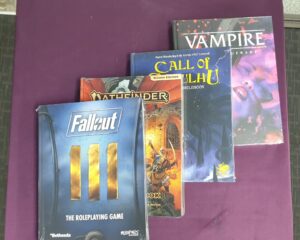 New Board and Card Game Releases
Wrong Party
Board and Card Game Restocks
Catan
Dixit
Fruit Punch (formerly Halli Galli)
Gloomhaven: Jaws of the Lion
Here to Slay
Parks
Payday
Saboteur and Saboteur 2 Expansion
Scythe
Spirit Island and Branch and Claw Expansion
Ticket to Ride
Ticket to Ride Europe
Trial by Trolley and R-Rated Expansions
Unfair
Unstable Unicorns
Wingspan
New Miniature Wargame Releases
BattleTech: Legends
BattleTech: Tamar Rising Sourcebook
Clan Ad Hoc Star
Clan Heavy Battle Star
Inner Sphere Heavy Battle Lance
Miniature Wargame Restocks
Alpha Strike: Commander's Edition
BattleTech: Total Warfare
BattleTech: Techmanual
BattleTech: Manual
Various BattleTech Lance and Star Packs
New Role Playing Game Releases
Fallout: The Role Playing Game
Role Playing Game Restocks
Call of Cthulhu 7E
Call of Cthulhu Investigators Handbook
FATE Core RPG
Fiasco
Vampire: The Masquerade 5E
Vampire: Anarch
WizKids RPG Miniatures